😲 I found my personal info on a website called TruePeopleSearch.com. How did they get this info? Was I hacked? Is this even legal?
Table of Contents
Introduction
What is TruePeopleSearch?
How do data brokers get personal information?
Why is it a problem?
How popular are data broker sites like TruePeopleSearch?
How to opt out of TruePeopleSearch
Next Steps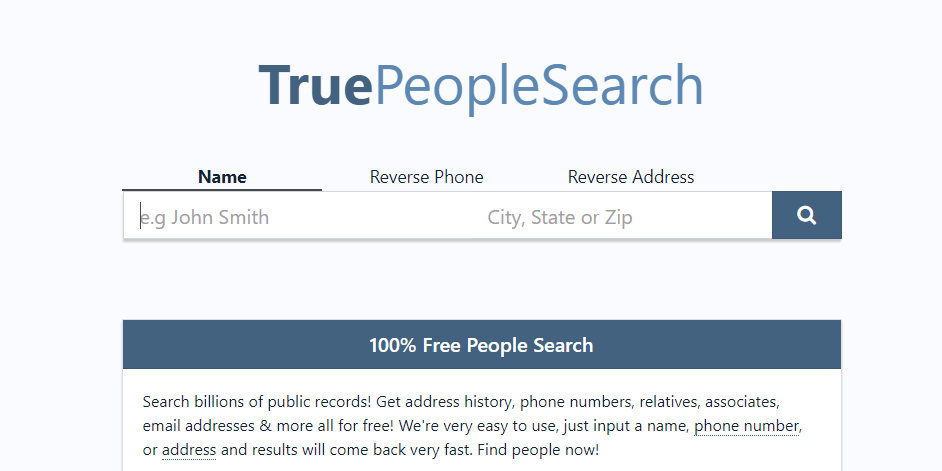 SKIP THE INTRO: Hey, I already know about Data Brokers and I just want to see How To Remove My Info from TruePeopleSearch!
👀 TruePeopleSearch: Another Major People Search Site to be Aware of
If you have discovered your address, phone number, or other sensitive info appearing on the website TruePeopleSearch, that's because you are in exactly the same boat as 10s of millions of other Americans being spied on by data brokers.
Yes, believe it or not, this is legal. Data brokers get their info from publicly available databases and sources (for example, the DMV and Real Estate Records). Then they build a profile on you, and put tempting teaser details online.
From there, anyone with an internet connection and a single piece of info on you, your phone number for instance, can find your profile and fill in all the missing details like address, full name, criminal history, credit info, you name it!
Check out this local news segment on TruePeopleSearch from 2019:
💰Why do they do this?
Data brokers are in this to make money.
And they make A LOT of money. Your personal info is valuable. Combine it with millions of other peoples' info and now we are talking about a many billion dollar per year industry. The problem is data brokers don't differentiate between selling your details to a marketer who wants to sell you a timeshare in the Bahamas versus selling your info to a dangerous stalker.
📈 How Well-Known are these Sites? Search Volume for TruePeopleSearch Over Time
Source: Google Trends. Whitepages and Spokeo included for comparison
Above: 2004 – Present.
Using Google Trends as a proxy for data broker popularity, we can see TruePeopleSearch has grown to be nearly as popular as the old guard data brokers Whitepages and Spokeo. It's a little tough to see in this zoomed out view, but TruePeopleSearch actually passed up Spokeo in 2020.
😱 If you've read this far, you might be a little freaked out.
Don't panic. You can Opt Out of TruePeopleSearch!
"Opt Out" is just industry-jargon for requesting that they remove your info from their site. Because of laws like the CCPA in California, data brokers that operate in the U.S. are obliged to honor these requests. It's not perfect, but it is better than leaving your details up online!
Finished Opting Out? Congrats! You have taken a simple, but important step towards reclaiming your privacy.  However, there are hundreds of People Search Sites out there displaying peoples' personal information. They are constantly changing and being updated.  It's nearly impossible to stay on top of these data brokers which is why we offer our premium service that monitors and removes your profile from dozens of data brokers continuously.  We do all the work. You get your time back and more peace of mind. Bonus tip: if you're a business owner worried about the security of your employees, we also have Optery for Business.