In this post, we'll cover what Classmates.com is and Step-by-Step instructions on How to Opt Out of Classmates.com.
What is Classmates.com?
Classmates.com is a social networking website allowing members to find high school classmates, view personal profiles, school yearbooks, as well as post messages and photos.
There is always a risk that your personal data could be exposed when you use any online service. This is especially true for services that collect sensitive information like Classmates.com. If you use Classmates.com, or any other online service, it is important to be aware of the risks and take steps to protect your information.
Optery offers scan and removal services for your exposed private information. We cover more than 200 data broker sites where you can find your information exposed. You can sign up for a free Exposure Scan and receive tools you can use to remove your information, or you can upgrade to our paid subscription and let our Opt Out Agents help you with the removals.
If you are concerned about your personal information being exposed on Classmates.com, follow the Step-by-Step instructions on How to Opt Out of Classmates.com provided below.
Currently, there are three ways to remove your personal information from data broker sites like Classmates.com:
Sign up for Optery's automated opt out and data deletion service. Our service will monitor and remove your profile from dozens of data brokers on an ongoing basis. Click here to sign up and get started with a free account and to learn about our automated service plans.
Remove your personal information from Classmates.com by following the steps outlined below. Optery provides guides with step-by-step opt out instructions for many other data brokers here.
If you are a resident of California, you can opt out of data broker sites that follow the California Consumer Privacy Act (CCPA) law. Click here to review Instructions for submitting a CCPA Data Deletion Request.
---
How to Opt Out of Classmates.com Manually
Opting out of Classmates.com is available to account members and non-members. If you are member, follow the instructions below. If you are not a member, scroll down this page to the Opt Out Instructions for non-members section.
Opt Out Instructions for Classmates.com members:
Go to the homepage https://www.classmates.com/ In the upper-right corner of the web page click SIGN IN.

Enter your sign-in credentials and click Log in.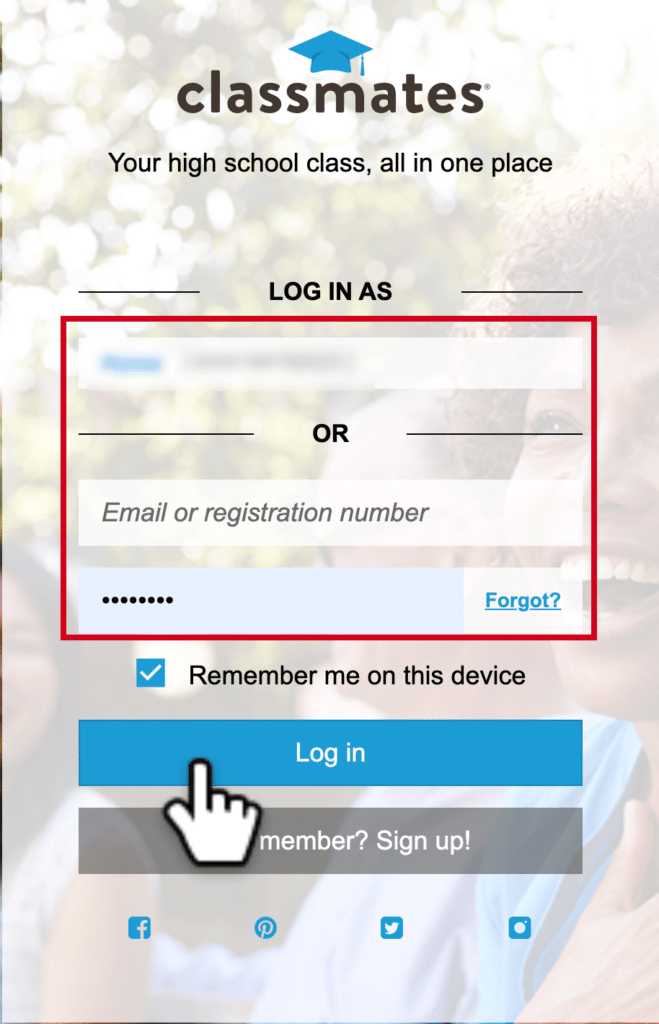 Once logged in, scroll down to the bottom of the page and click the Do Not Sell My Personal Information link.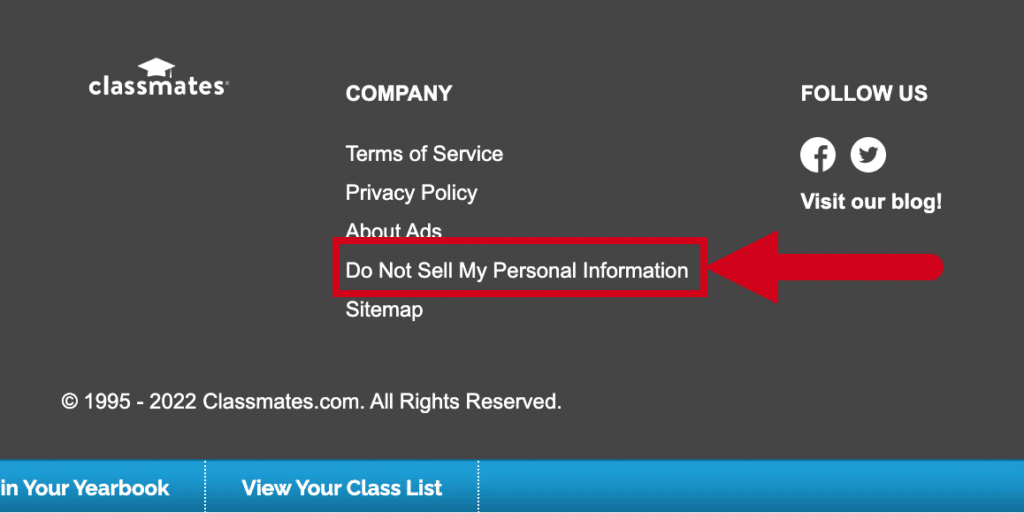 You will be redirected to the Privacy page. Scroll down to "3. UPDATING OR REMOVING YOUR INFORMATION". In the second paragraph, click the blue click here link.

Scroll down to the Free Members section. Next to step 1. click CLICK HERE.

Select your reason for removal and click the REMOVE REGISTRATION button.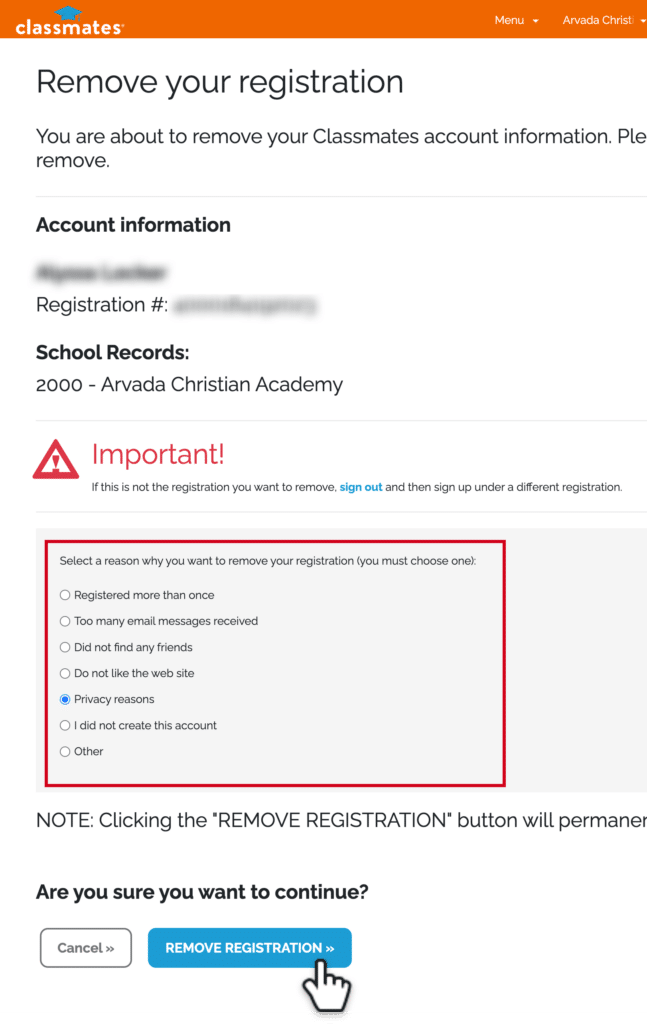 An on-screen notification will appear to confirm the removal of your account/profile.

Opt Out Instructions for non-members:
Go to the homepage https://www.classmates.com/ Select the state where you graduated from high school from the list provided.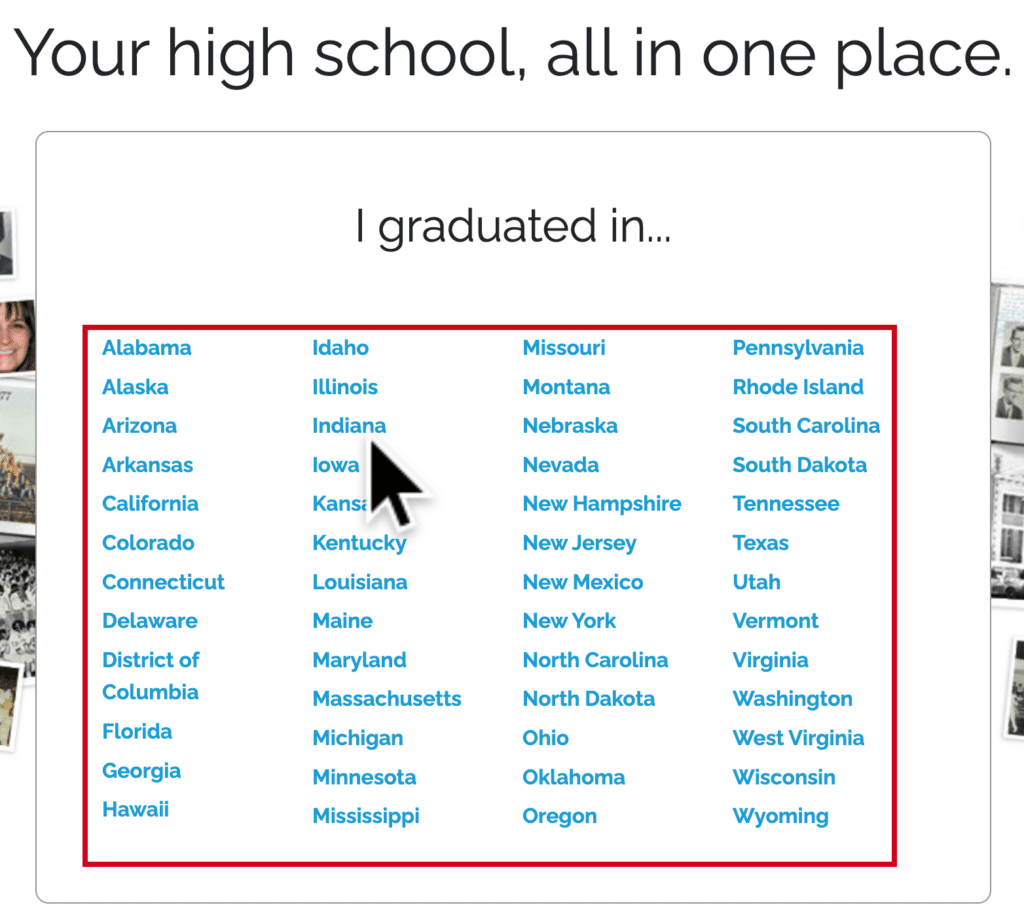 The next section will ask you to select the first letter of the city where you graduated from high school.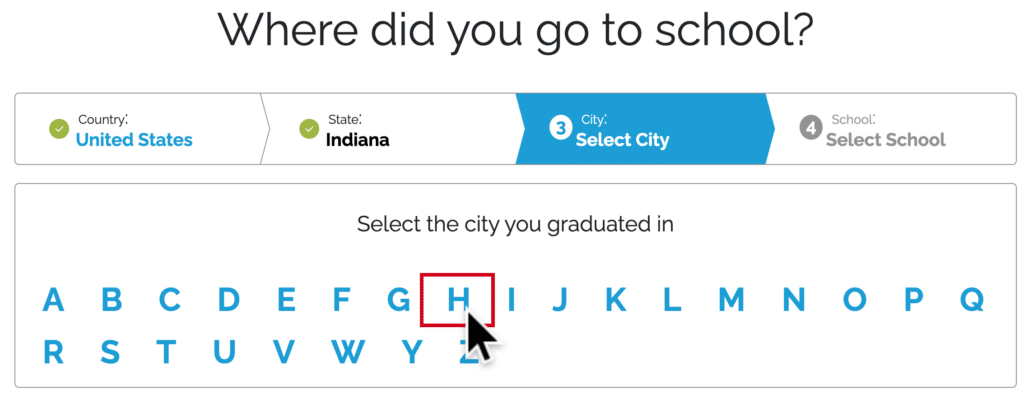 Select your city from the list provided.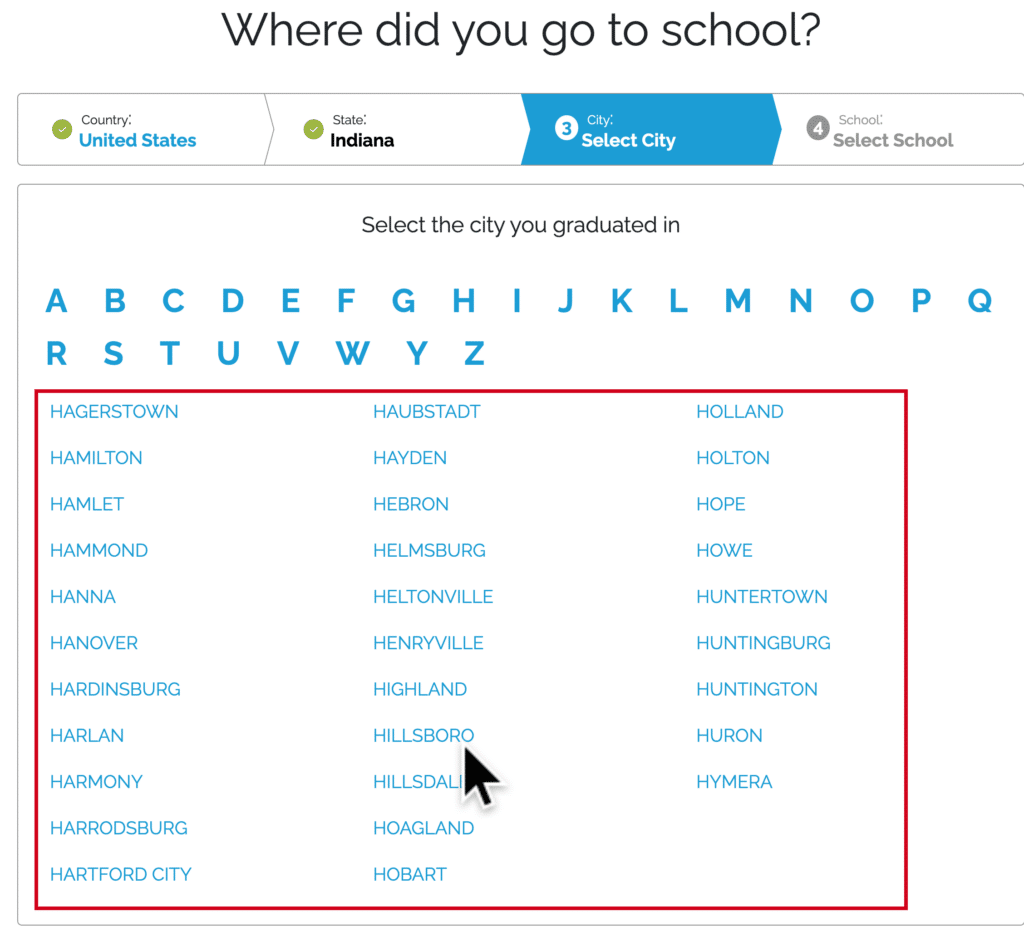 Select the first letter of the name of the high school where you graduated from. A list of high schools will appear. Click on your high school from the list. If you do not see your high school listed, click the blue search for it now link and follow the instructions.

Browse through the information provided. Find your profile and click on it. You might have to scroll down and search by last name in the Alumni List section.

Copy your profile URL from the web address bar outlined in red in the image below.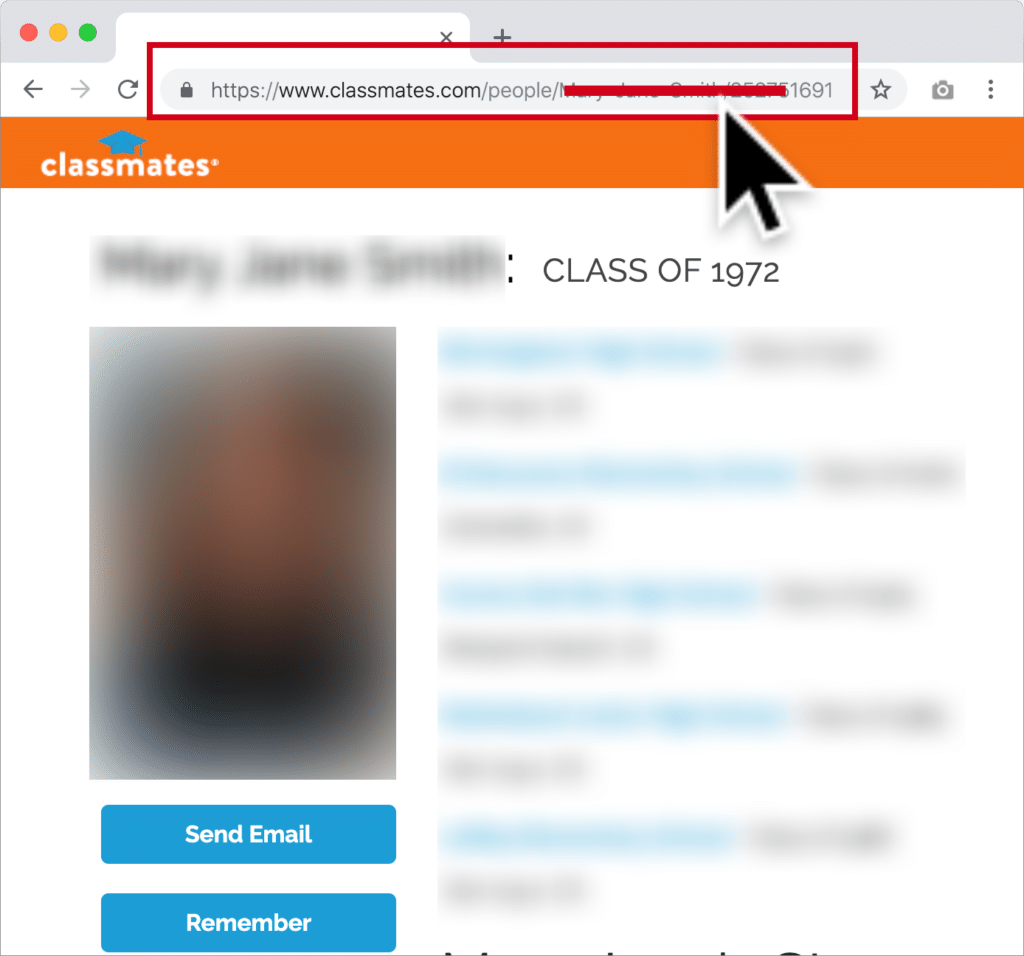 Email Classmates.com using this email address privacy@classmates.com and request that your personal information be removed from their site. Include the URL of your profile copied in step 6 in the email.
IMPORTANT: Whenever contacting a data broker, we highly recommend using a disposable email address, and NOT using your own primary email address. Data brokers are known to add you to their marketing lists and databases whenever you contact them, even if the purpose is to opt out! For more info on Disposable Emails click here
Congratulations on completing your opt-out!
You have taken a simple, but important step towards reclaiming your privacy.  However, there are hundreds of People Search Sites out there displaying peoples' personal information. They are constantly changing and being updated.  It's nearly impossible to stay on top of these data brokers which is why we offer our premium service that monitors and removes your profile from dozens of data brokers continuously.  We do all the work. You get your time back and more peace of mind. Bonus tip: if you're a business owner worried about the security of your employees, we also have Optery for Business.