Optery was recently chosen as PCMag Editors' Choice, beating out competitors DeleteMe, PrivacyBee, and others. Read on for highlights and links to the full review.
Optery's mission is to put consumers in control of their personal data. Our opt out software makes sure your home address, phone number, email addresses and other private information are removed from the internet. With the increasing threat of identity theft, cyber attacks, and data breaches, protecting your data is more important than ever.
Recently, Optery was honored for its efforts to protect consumers' data, winning the esteemed PCMag Editors' Choice award. Check out the full review on PCMag.com by Neil J. Rubenking or read on for highlights from the review.
🏆 Best Security Software for Consumers
Optery came out on top among the other companies in the data privacy space, surpassing competitors such as Abine's DeleteMe, PrivacyBee, The Kanary, Incogni, and IDX Privacy. Here are some highlights from the article: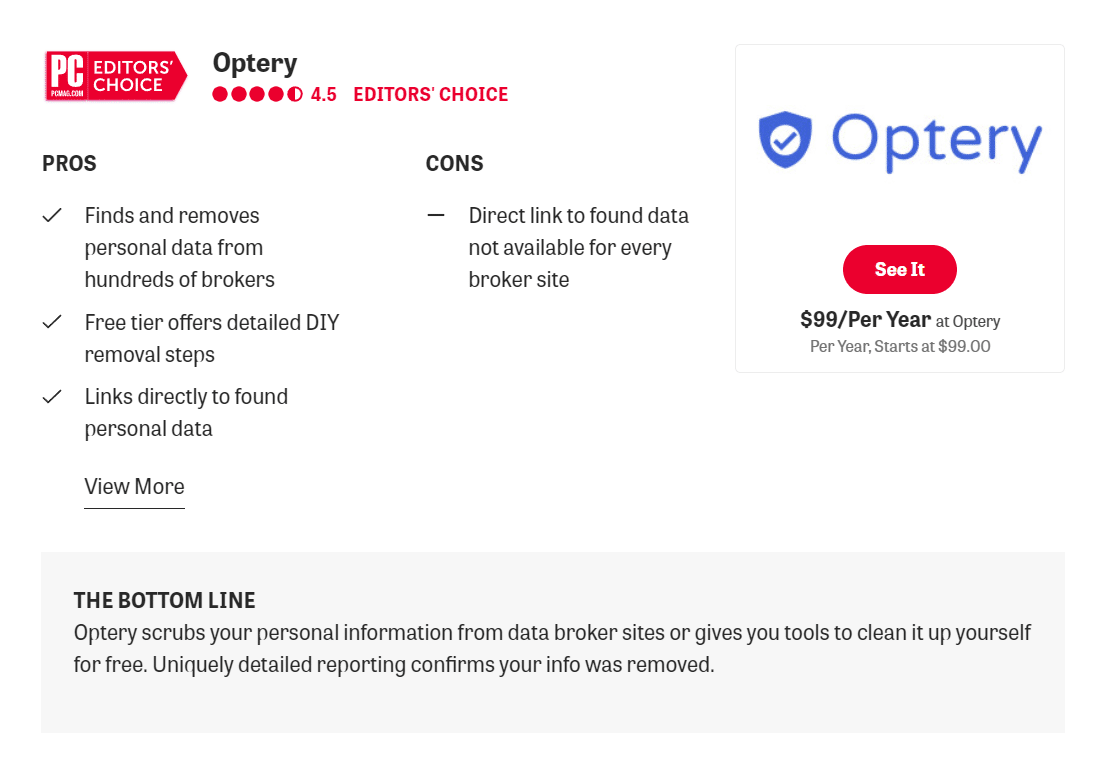 ⚖️ Optery vs DeleteMe
In his review, Neil J. Rubenking compares Optery vs. DeleteMe, one of the oldest companies in the Data Broker Removal industry. Below are two key differences mentioned in the review.
💯 Excerpts from the PCMag Review
First, Neil points out Optery's unique screenshot feature, which shows consumers exactly where their information is being sold online (by the way, our Exposure Reports are FREE – you get continuous scans for your personal data on the internet).
Unlike any other product in this field, Optery doesn't just state that your data was found, like IDX Privacy. It also doesn't simply list the found data items, like DeleteMe. Rather, the report presents you with a screenshot of your actual profile data on the site.
Secondly, Neil goes on to compare the numbers of data brokers covered by Optery and its competitors. Note that Optery is always adding more data brokers. We currently cover 270+
Delete Me publicly lists(Opens in a new window) the brokers it tracks, all 38 of them. Optery not only lists all its brokers(Opens in a new window) (currently 193) but breaks down the list by which ones qualify for automatic removal at each subscription level. I asked the other companies and received lists from Privacy Bee (232 brokers), IDX Privacy (100 brokers), and Incogni (76 brokers).

[…]

In terms of sheer numbers, Privacy Bee and Optery both eclipse DeleteMe and IDX Privacy, especially DeleteMe's puny list of 38 brokers. Of DeleteMe's list, Privacy Bee covers two thirds and Optery covers three quarters. For IDX Privacy it's flipped—Optery covers two thirds from that list and Privacy Bee covers three quarters.
🔍What is PCMag Editors' Choice?
PCMag (PC Magazine) is a technology publication that provides reviews, news, and articles about technology and consumer electronics. It was founded in 1982 and is published by Ziff Davis. The magazine's editors test and review various technology products and services, and they also provide in-depth analysis and commentary on the latest trends in the tech industry. The PCMag website offers the latest tech news and reviews, as well as buying guides and other resources for technology enthusiasts.
✔️How does the Editors' Choice Award work?
PCMag Editors' Choice is an award given by the editors of PCMag to the best products and services in the technology industry. The award is given to products that the editors have tested and reviewed, and that have demonstrated exceptional quality, performance, and value. The PCMag Editors' Choice award is considered to be a prestigious honor in the tech industry.
🙏Thank you PCMag!
Many thanks to Neil and the team at PCMag for the award! Optery will continue its mission to empower consumers and take back control of our data by providing Free and Paid tools that are powerful and easy-to-use. If you're ready to protect yourself, your family, or your business, the easiest way to get started is to create a free account and check out your Exposure Report.