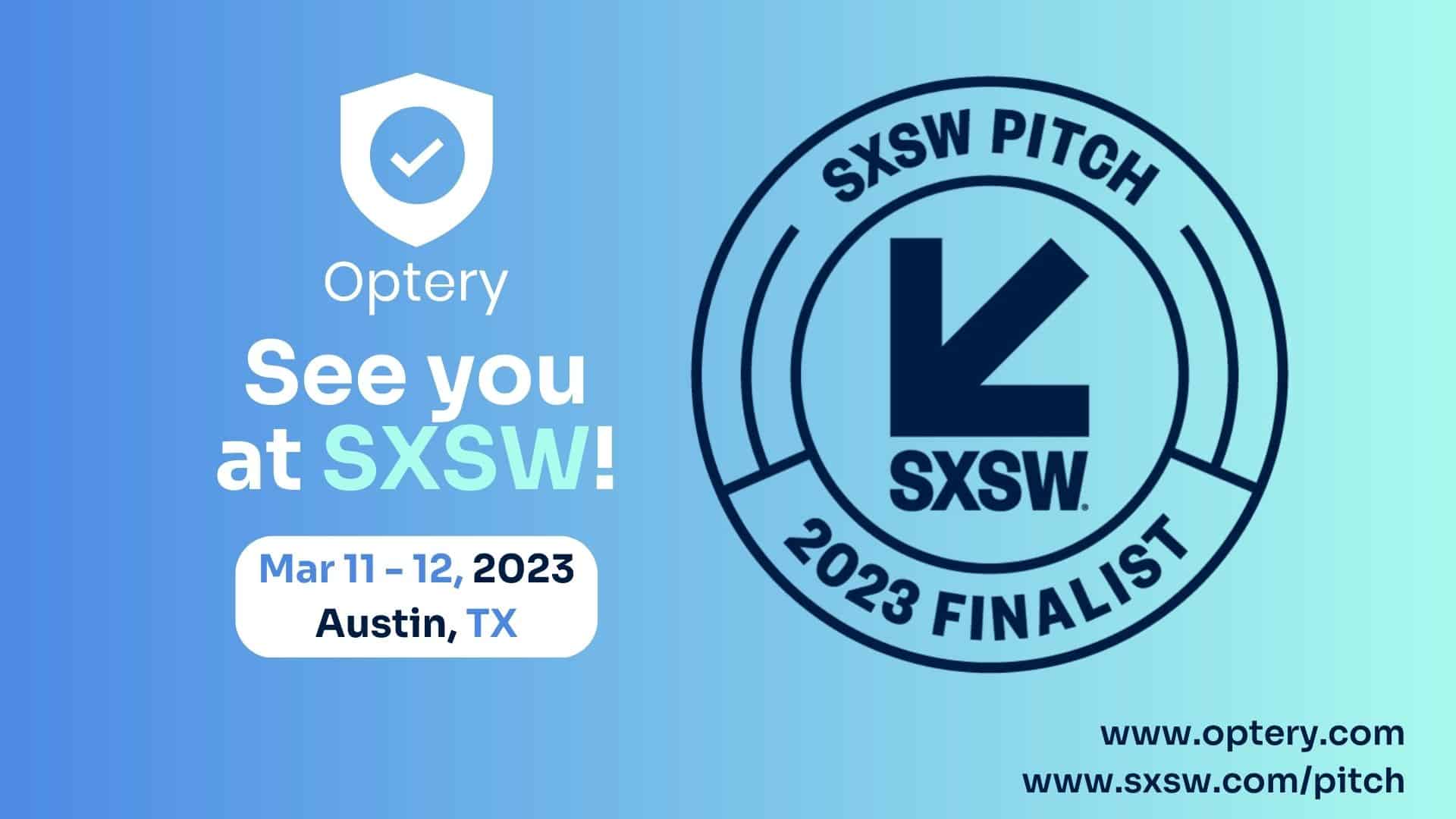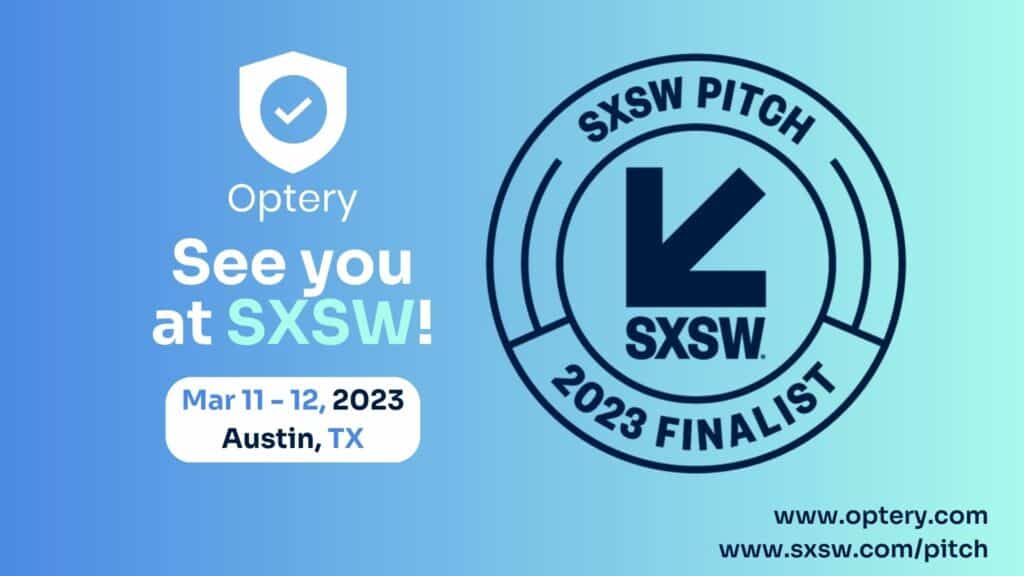 We are excited to share that Optery was selected as a finalist in the Enterprise & Smart Data category for the 15th annual SXSW Pitch (formerly SXSW Accelerator).
SXSW Pitch is the marquee event of South by Southwest® (SXSW®) Conference & Festivals (March 10 – 19, 2023), where leading startups from around the world showcase some of the most impressive technology innovations to a panel of hand-picked judges and a live audience. Out of the hundreds of companies that applied to present at SXSW Pitch 2023, Optery was selected among the 40 finalists spanning eight separate categories.
The two-day event will be held the first weekend of SXSW Conference & Festivals, Saturday, March 11 and Sunday, March 12, at the Downtown Hilton Austin. The event will then culminate with the 2023 SXSW Pitch Awards Ceremony on Sunday evening, March 12, where winning startups from each category and a Best in Show winner will be announced and honored on the sixth floor of the Hilton Hotel.
SXSW Pitch will feature finalists across the following 8 categories: Artificial Intelligence, Robotics & Voice, Enterprise & Smart Data, Entertainment, Media & Content, Food, Nutrition & Health, Future of Work, Innovative World Technologies, Metaverse & Web3, and Smart Cities, Transportation & Logistics.
Optery, Allosense Dash, Climatiq, CreditRich, and FastForward will present in the Enterprise & Smart Data category on Sunday March 12th.
"Since its beginning in 2009, SXSW Pitch has significantly helped shape the early-stage venture ecosystem and connected promising companies with the resources they need to thrive, giving promising companies the resources they need to succeed when it matters most," said SXSW Pitch Event Producer Chris Valentine. "Of the 613 companies who have been selected as finalists since the competition's inception, over 93 percent have gone on to secure funding and numerous have been acquired by the likes Google, British Telecom, Huffington Post, Apple, Live Nation, OpenTable, Meta, Michelin, Constant Contact, and Harmon. We're excited to see this year's impressive group of startups take to the stage and show us how their innovations will change the world."
For more information about SXSW Pitch and to view the complete list of finalists, visit: https://www.sxsw.com/pitch.
About Optery
Optery is automated opt out software. With Optery, you can remove yourself from hundreds of data brokers that are posting and selling your home address, phone number, email and other private information on the internet. Optery prevents phishing and social engineering, identity theft and fraud, online stalking and harassment, doxxing, and prevents people's private information from showing up in Google search results. Anyone can create a free account to receive a personalized Exposure Report with live screenshots summarizing where your information is being posted and sold online. Optery then provides free tools for self-service removals, or you can upgrade to a paid plan, and Optery will remove the profiles for you. Optery serves both consumers and businesses, and was awarded "Editors' Choice" by PCMag.com as the most outstanding product in its category.
About SXSW
SXSW dedicates itself to helping creative people achieve their goals. Founded in 1987 in Austin, Texas, SXSW is best known for its conference and festivals that celebrate the convergence of tech, film and television, music, education, and culture. An essential destination for global professionals, the annual March event features sessions, music and comedy showcases, film screenings, exhibitions, professional development, and a variety of networking opportunities. SXSW proves that the most unexpected discoveries happen when diverse topics and people come together. SXSW 2023 is sponsored by White Claw, Volkswagen, Porsche, Itaú Bank, and The Austin Chronicle. SXSW 2023 will take place March 10 – 19, 2023 in Austin. For more information, please visit sxsw.com. To register for the event, please visit sxsw.com/attend.