Table of Contents
Google's Removal Tools: DIY info for everyone else
Automatic Google Removal for Optery Customers
Optery, the industry leader in personal data removal, is excited to announce a new feature that automatically removes your information from Google search results. This innovative feature, available to Ultimate Plan users, is part of Optery's on-going commitment to helping consumers control their private data.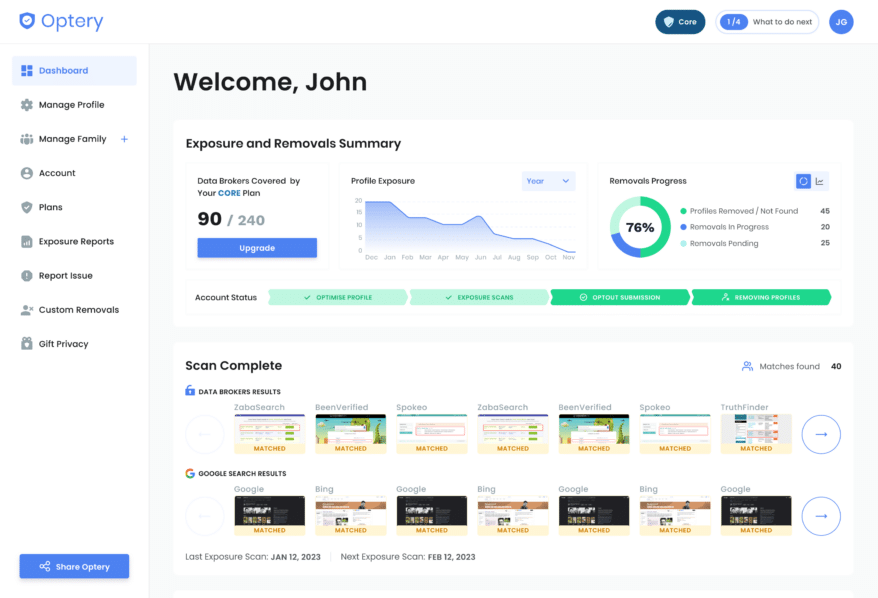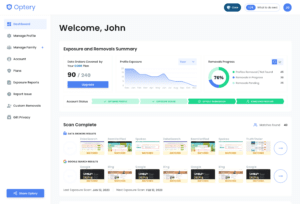 How does it work?
Once Optery has removed your personal information from data broker sites, we will also ensure the outdated data no longer appears in Google search results. This is yet another stride in our continuous pursuit of privacy for our users.
Benefits to Optery Ultimate Plan members
By leveraging this feature, outdated results can be removed from Google within a speedy 24-48 hours. In contrast, without Optery's assistance, this process could take months while waiting for Google to re-scan and update information from data broker websites. We are proud to offer this industry-leading capability to our Ultimate Plan users, further enhancing the suite of robust privacy protection tools available on our platform.
What if I am not on the Ultimate Plan at Optery?
For consumers not on Optery's Ultimate Plan, you are still able to remove outdated or PII content. The rest of this article provides some background on Google's Outdated Content Removal Tool and Google's PII Removal Tool. Read on for additional info, links to resources, and step-by-step instructions on how to use Google's Removal tools yourself.
Google's Removal Tools: DIY info for everyone else
The Outdated Content Removal Tool
With the unveiling of the Remove Outdated Content tool, Google is making a strategic move that touches a wide range of internet users, from digital marketers and website owners to everyday users. This tool provides several key advantages:
Streamlined Content Management
The internet is a dynamic space filled with constantly updating information. As this digital realm grows, it's important to keep online content not just abundant but also relevant and up-to-date. Google's Remove Outdated Content tool offers a practical solution for this challenge. It lets users ask for the removal of old or irrelevant content from search results, greatly improving content quality and control.
A study by the Pew Research Center indicated that 64% of adults believe that false information causes a lot of confusion about current issues. In a separate poll by Pew, over 80% of Americans felt they had little control over their personal information. By providing this removal tool, Google has given consumers more control over their personal data online and given the public a mechanism to correct old or outdated information.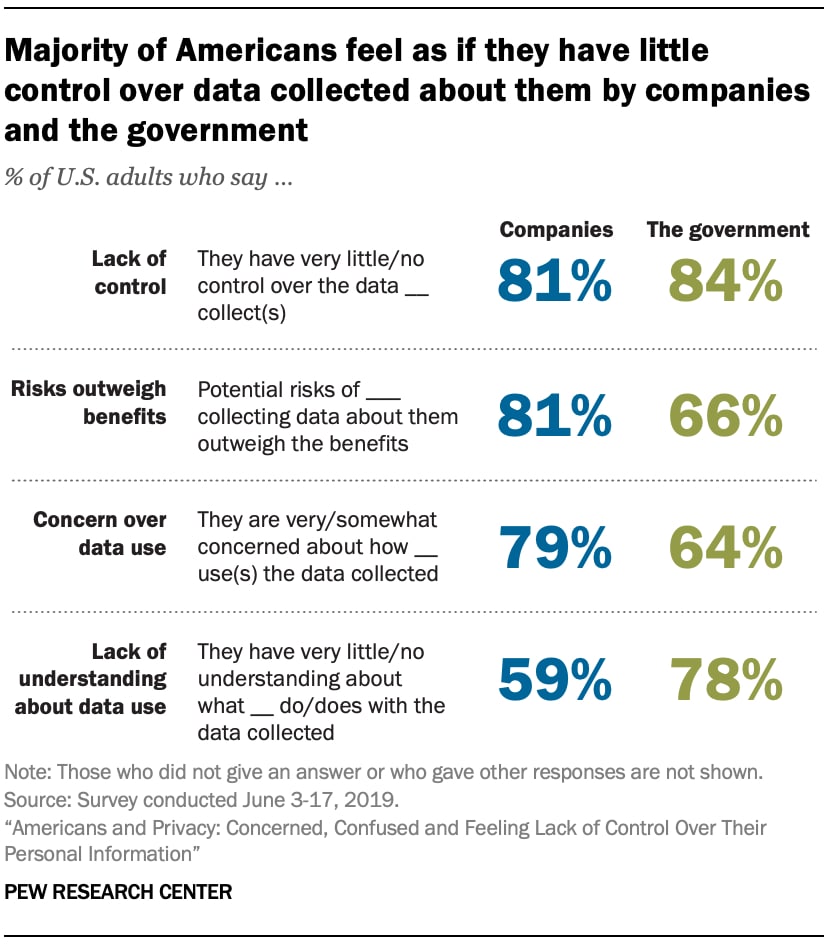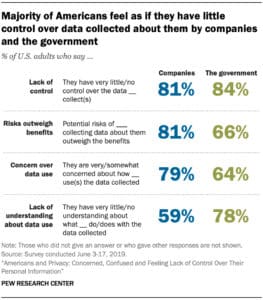 Reinforcing the Accuracy of Google Search Results
Google's mission extends beyond making the user experience better; it's about making search results as accurate as possible. Statista reported that Google held a whopping 85.64% of the desktop search market in the US in 2021. With such a large market share, accuracy in search results is a must.

Find more statistics at Statista
By enabling the removal of outdated, low-quality, or PII content, Google aims to provide accurate, high-quality search results. This aligns with their goal of remaining the leader in search. In addition, these tools can help individuals control their personal information and how it appears in Google search results.
How are Google's Content Removal Tools related to Data Brokers?
Thanks to laws like the CCPA, consumers have the right to opt out of data broker sites and people search sites. Consumers can opt out manually themselves or use services like Optery to automate the process.
One problem though, is that even after a data broker receives the opt out request and removes a user profile on their site, Google search results can continue to show that information. Cybercriminals can still obtain useful personal details from the excerpt on Google.com search results pages even if the full profile is no longer accessible at the data broker.
Google's Outdated Content Removal Tool expedites removal of the search result on Google. That means that once a page is removed from a data broker, it can also be quickly removed from the Google Search Results Page, reducing the availability of sensitive information and increasing personal data security. Google's PII removal tool is similar, in that it gives consumers an additional option for requesting the takedown of sensitive information such as in doxxing incidents.
Potential Challenges
While the Remove Outdated Content tool and PII Removal tools are useful, they present a few potential challenges that users must be aware of:
Addressing Privacy Concerns
The most significant concern associated with these tools is the potential for misuse. As they allow any user to request content removal, there's a possibility that legitimate content could be wrongly flagged as "outdated". Google counters this potential misuse by requiring users to log in to use the tools, thereby ensuring misuse can be traced and dealt with appropriately.
Understanding these Google Tools' Limitations
It's important to recognize that Google's Removal Tools do not completely delete a webpage from the internet. Rather, it updates Google's search results to remove visibility of the outdated page. The old content may continue to exist online, albeit invisible in Google's search results. In the case of the Outdated Content Removal Tool, if a page hasn't been significantly altered or removed, the request is likely to fail. Also, once again, these tools are for content on pages you do not personally control. If you are the owner of the content, such as a personal website, and you want Google to recrawl your pages, check this article on how to request a simple recrawl of your page.
For the most up-to-date information on Google's Outdata Content Removal Tool, refer to Google's support page.
Step-by-Step Instructions for Google's Outdated Content Removal Tool
The Remove Outdated Content tool is user-friendly, making it easy for anyone to handle:
Step 1: Access the Tool
After logging into your Google account, navigate to the Remove Outdated Content tool. Google mandates user log-in to prevent misuse of this facility.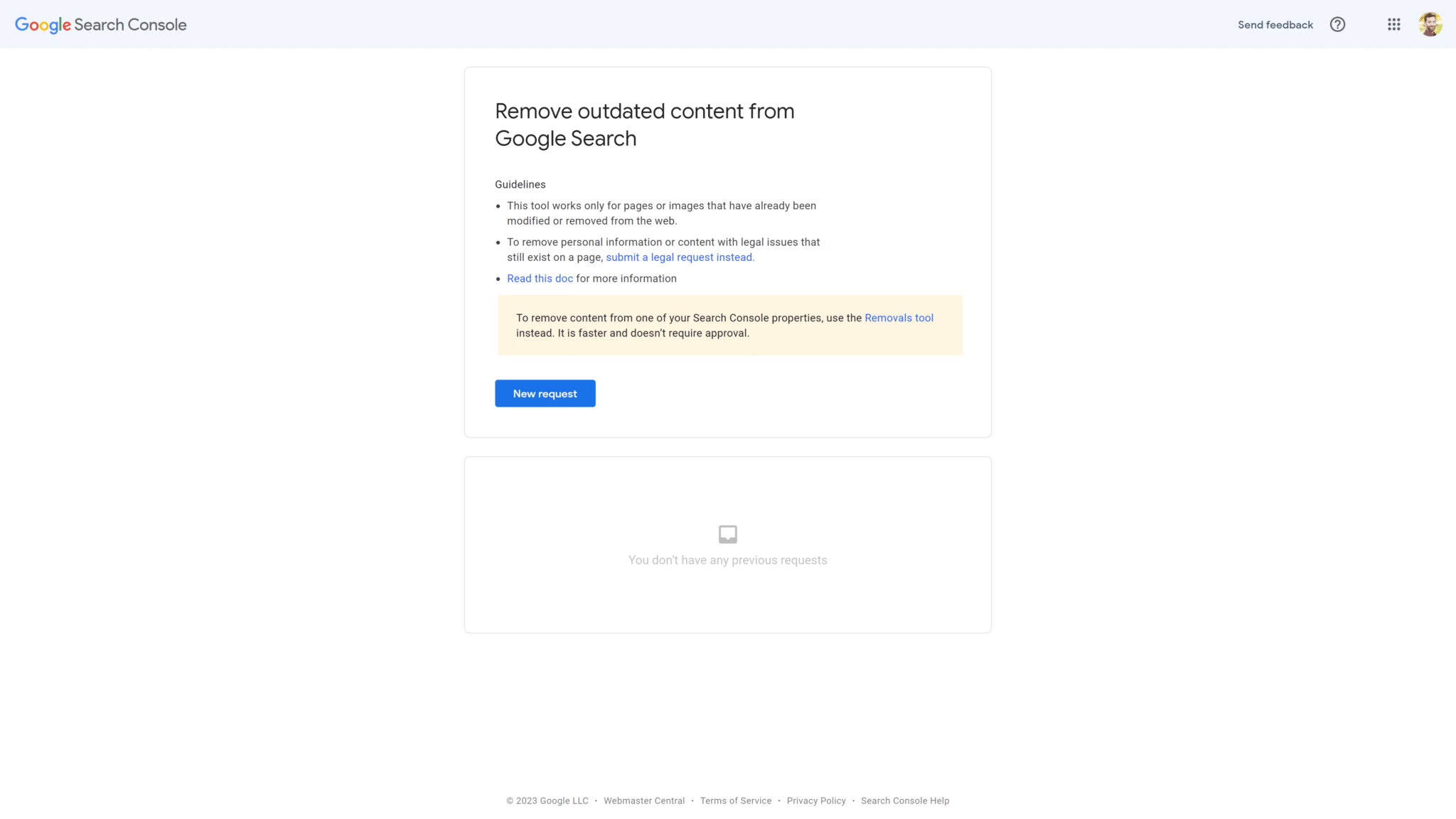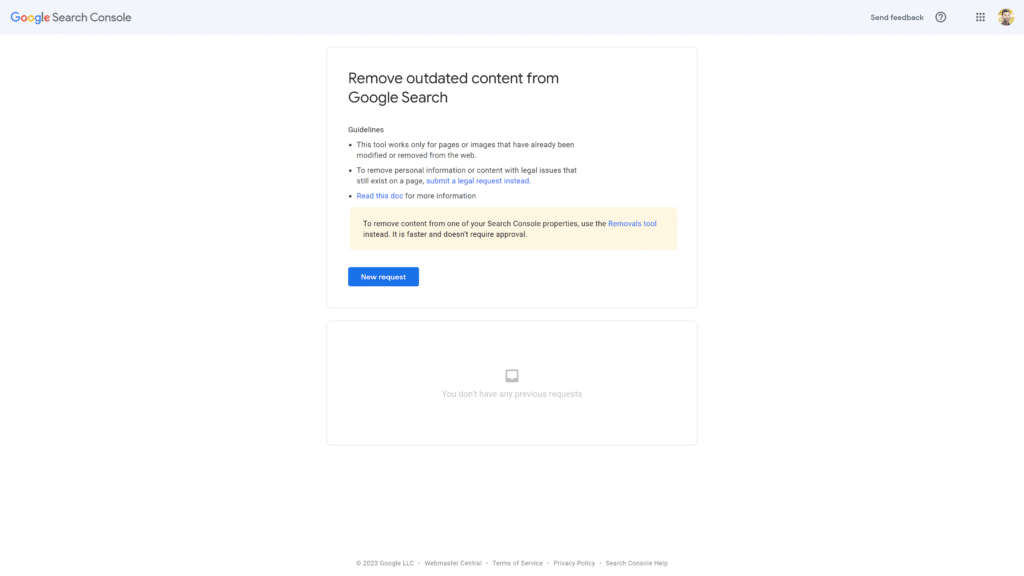 Step 2: Input the URL
Provide the URL of the outdated page or image you wish to remove. When handling images, note that you need to submit separate requests for each page that hosts the image.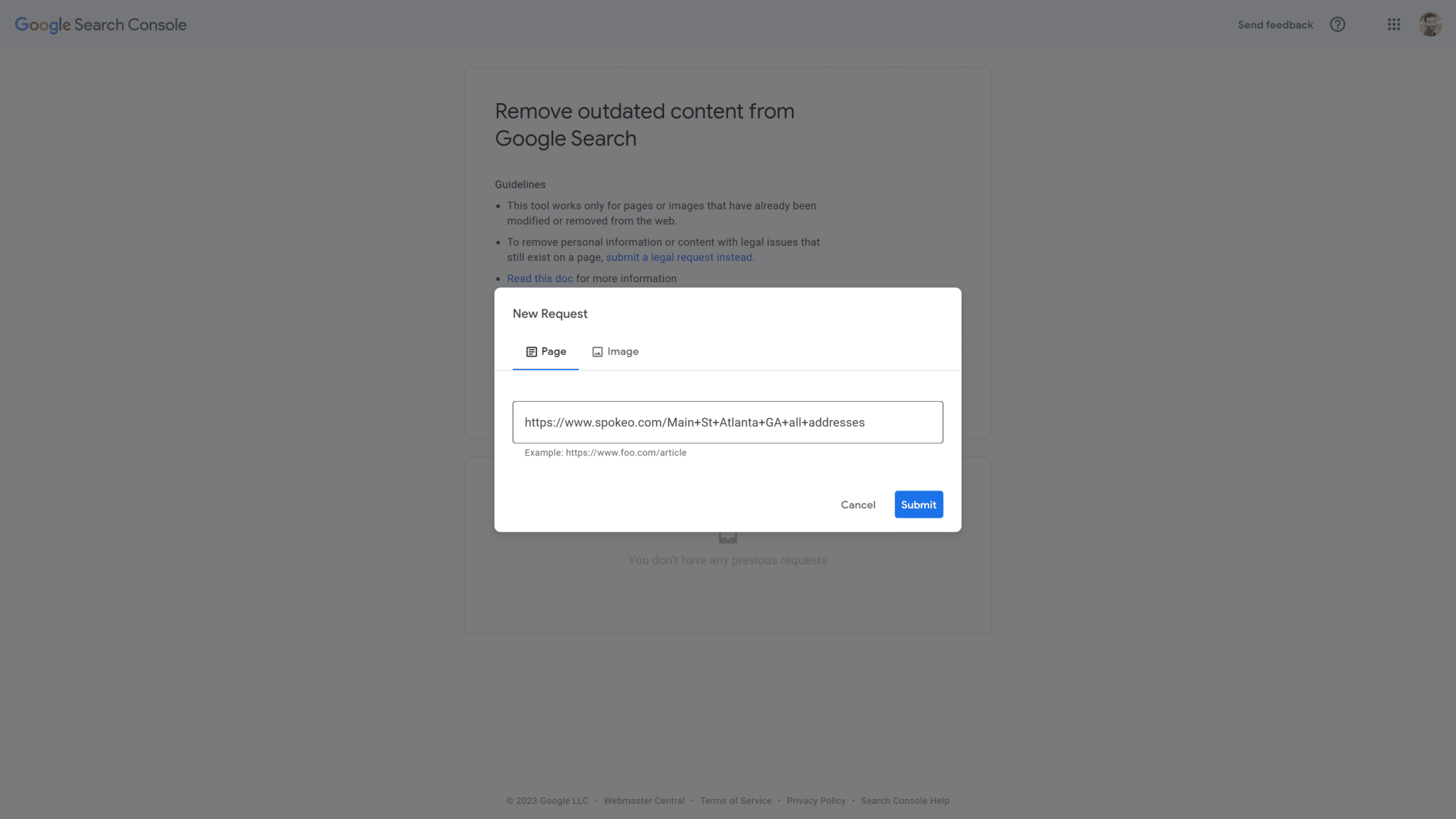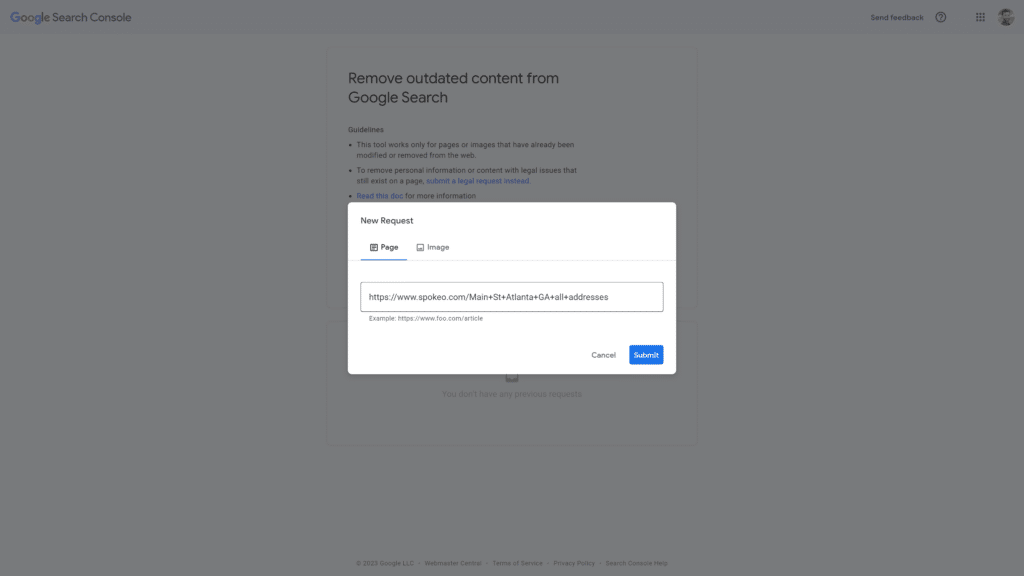 Step 3: Submit Request
After entering the URL, click on "Submit". If the page or image still exists at the given URL, the tool will prompt for more information.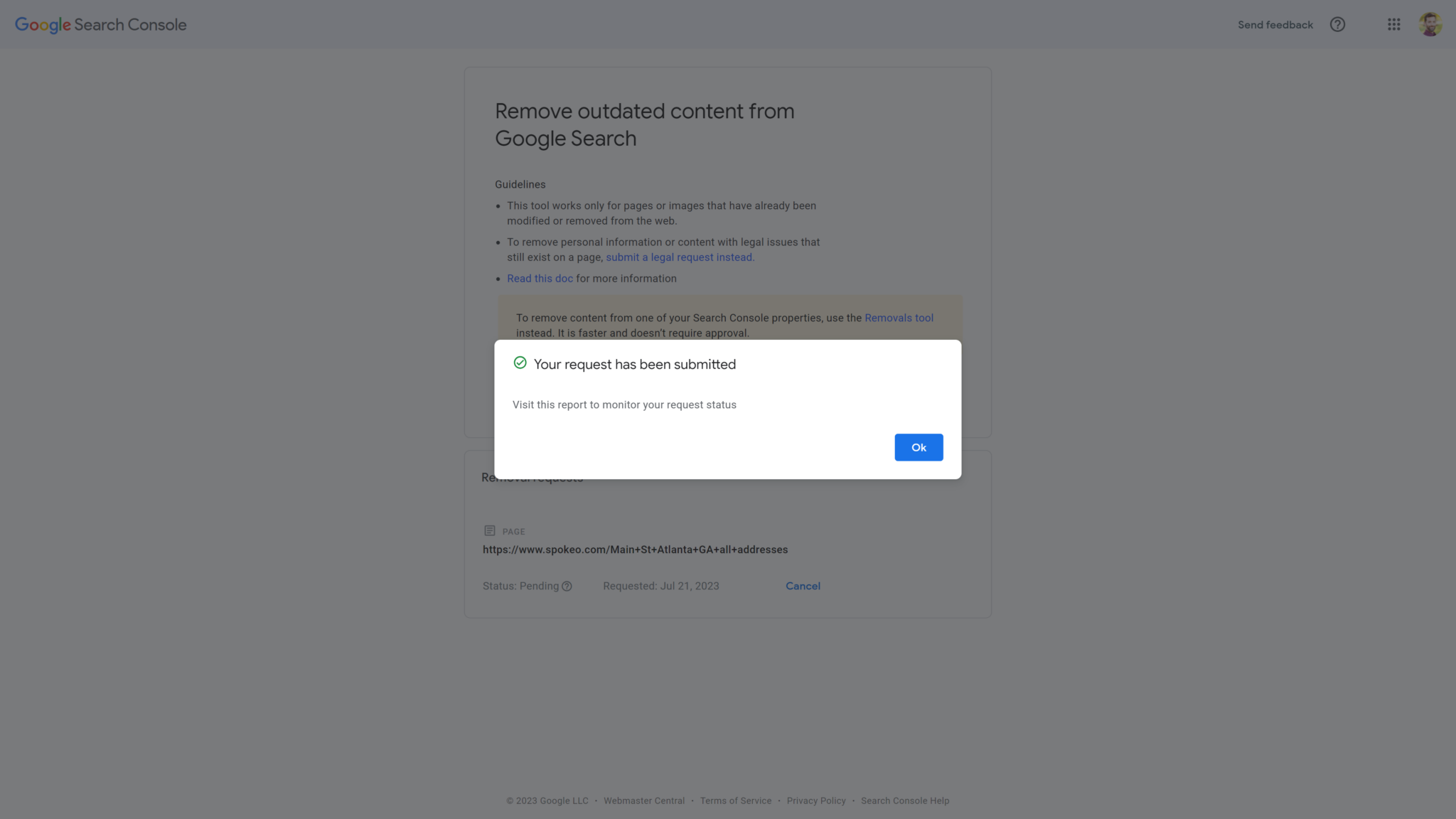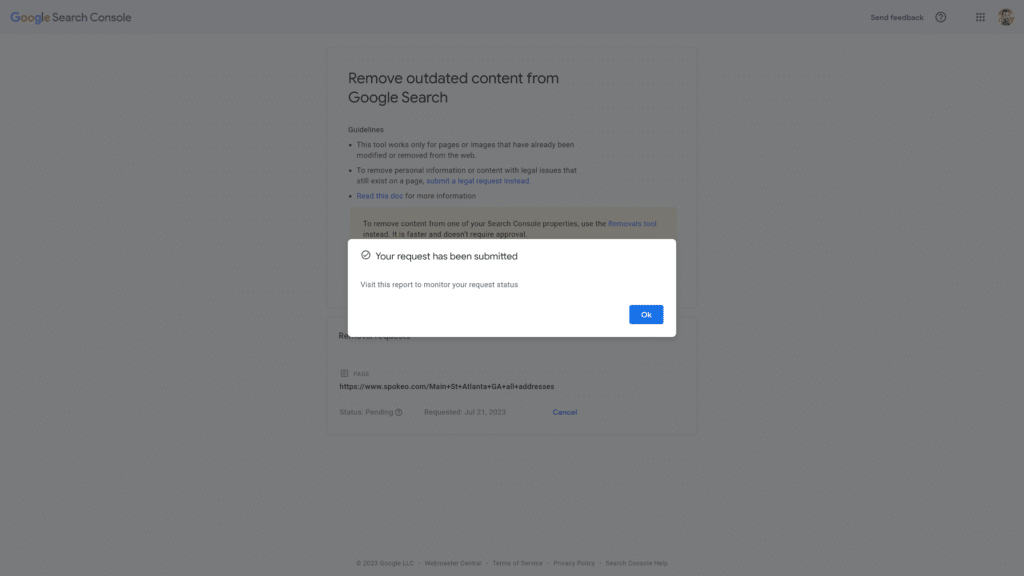 Step 4: Provide Additional Details
In some cases, you might need to specify one or two words that appeared in the older version of the page but are not present in the updated version. When removing an Image, you will need to provide the Image URL and the contain page URL.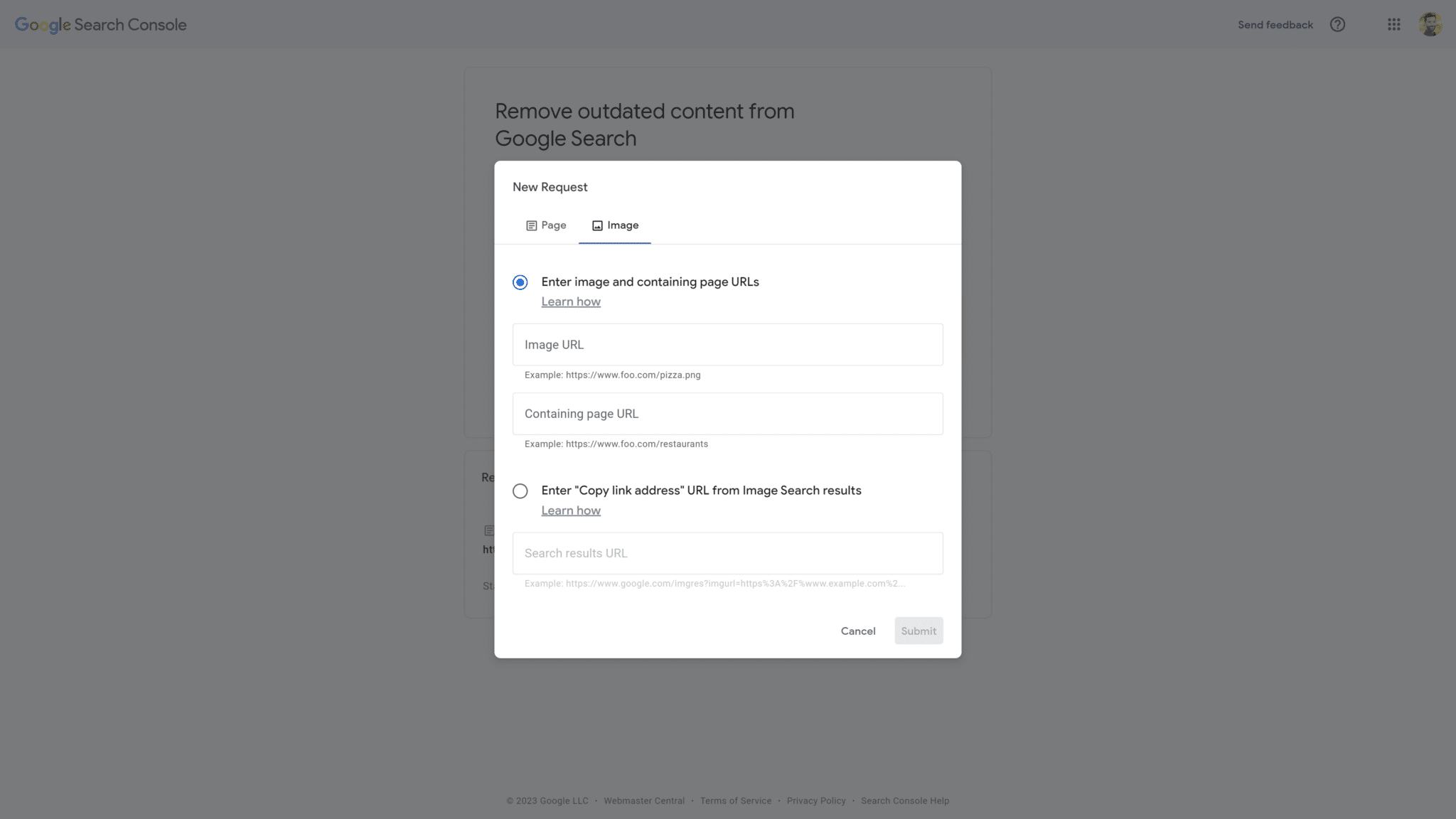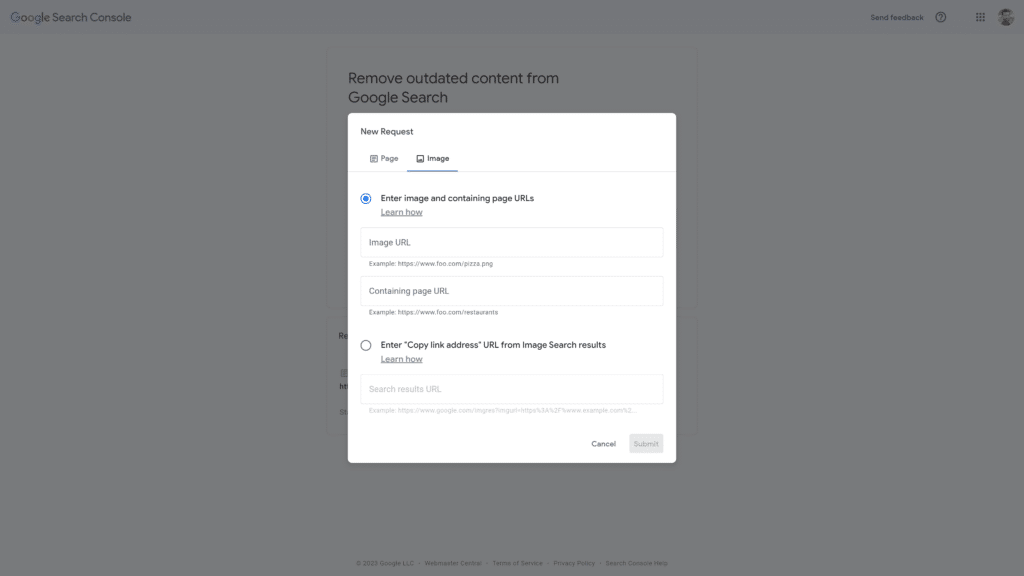 Step 5: Track Request Status
Following submission, check back periodically to monitor the status of your request.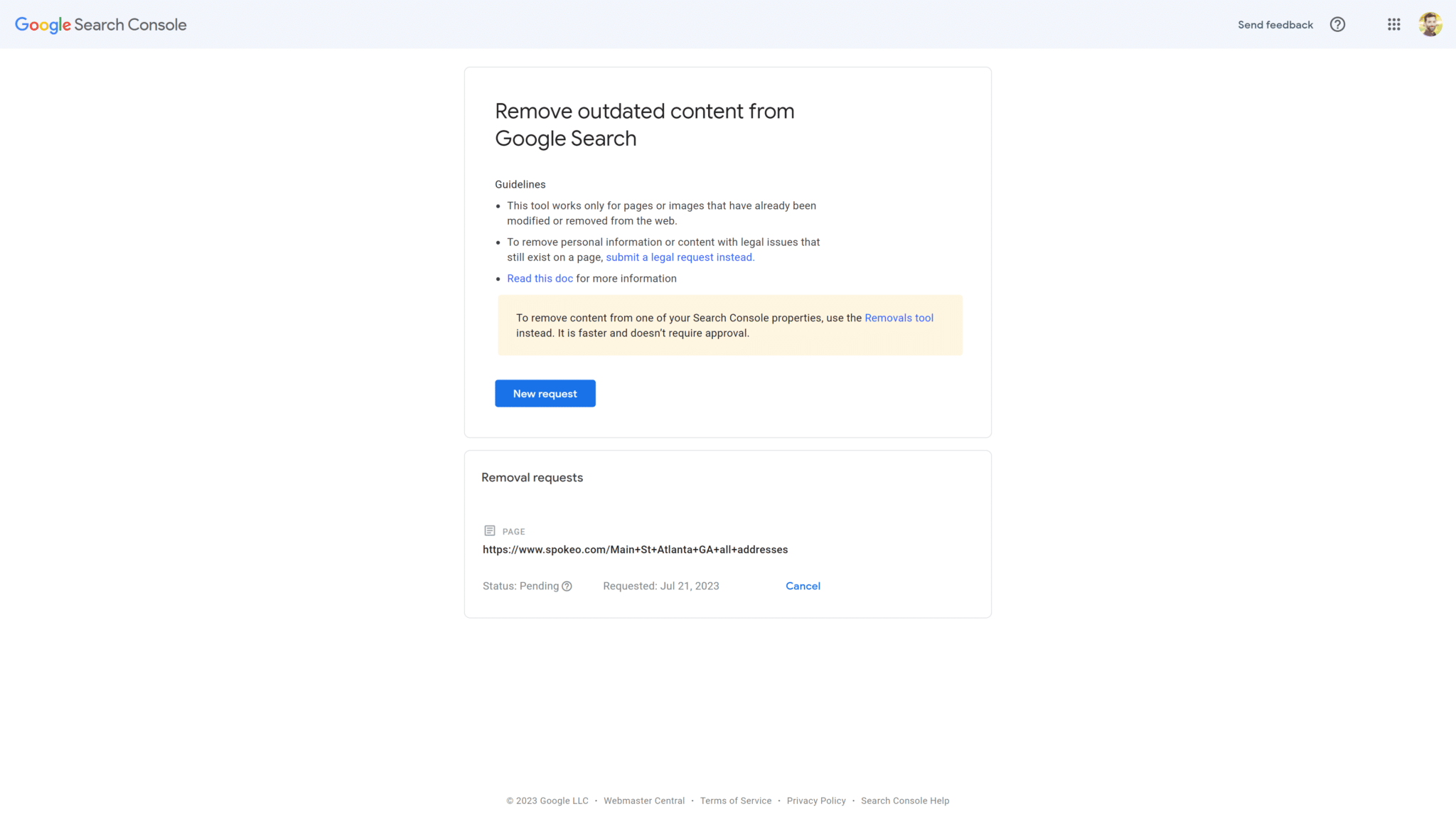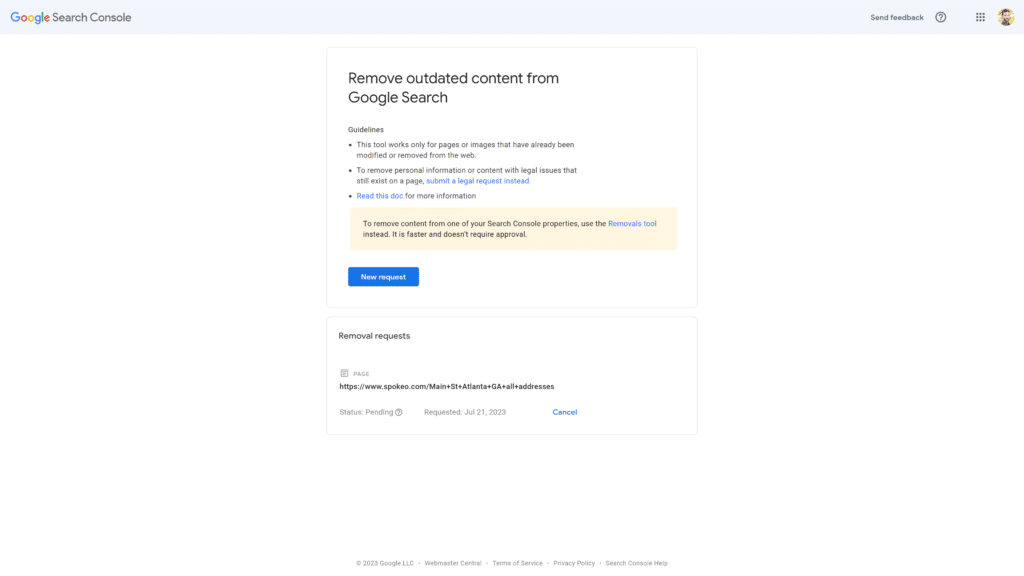 Google PII Removal Tool
What is the Google PII Removal Tool?
Similar to Google's Outdated Content Removal Tool, Google has developed a dedicated removal tool allowing users to request the removal of certain types of personally identifiable information (PII) from its search results. This tool is part of Google's broader privacy and data protection policies that aim to empower users to control the visibility and accessibility of their personal information online [source: Google Privacy & Terms].
For the most up-to-date information on Google's PII removal tool, refer to Google's support page: Google PII Help Center
Information from Google's Help Center:
Types of Information Covered by the Tool:
The types of personally identifiable information (PII) that can be removed using Google's removal tool include

Confidential government identification numbers
Bank account numbers
Credit card numbers
Images of handwritten signatures
Images of identification documents
and Personal contact information.

Consideration of Doxxing Cases:
Google's PII removal tool also considers requests related to doxxing incidents.

Doxxing refers to the practice of maliciously publishing private or identifying information about an individual on the internet, typically with harmful intentions. Google has specific measures to combat doxxing and will evaluate requests to remove such information based on established guidelines [source: Google Search Help].

Removal Request Submission and Review Process:
To initiate the removal process, a user submits a removal request to Google. This submission is then reviewed by Google, taking into account various factors including public interest, potential harm to the individual, and the validity of the information in question [source: Google Removal Policies].
Use and User Requirements of the Tool:
The PII removal tool is intended for personal use. A user must be logged in to their Google account to submit a removal request. By requiring login, Google ensures the legitimacy of the request and protects against potential misuse of the tool [source: Google Privacy & Terms].
Limitations of the Removal Tool:
While Google's PII removal tool can be highly effective, it does have limitations. For instance, even after the removal of a search result from Google, the webpage itself may still be accessible online, through direct access, or via other search engines. This is due to Google's role as an indexer of web content, not a host [source: Google Search Help]. Google also provides this help article on contacting the owner of a website that contains your personal information: https://support.google.com/websearch/answer/9109
Step-by-Step Instructions for Google's PII Removal Tool
Step 1: Start the request
Access the PII Removal Tool and associated help documentation at https://support.google.com/websearch/answer/9673730?hl=en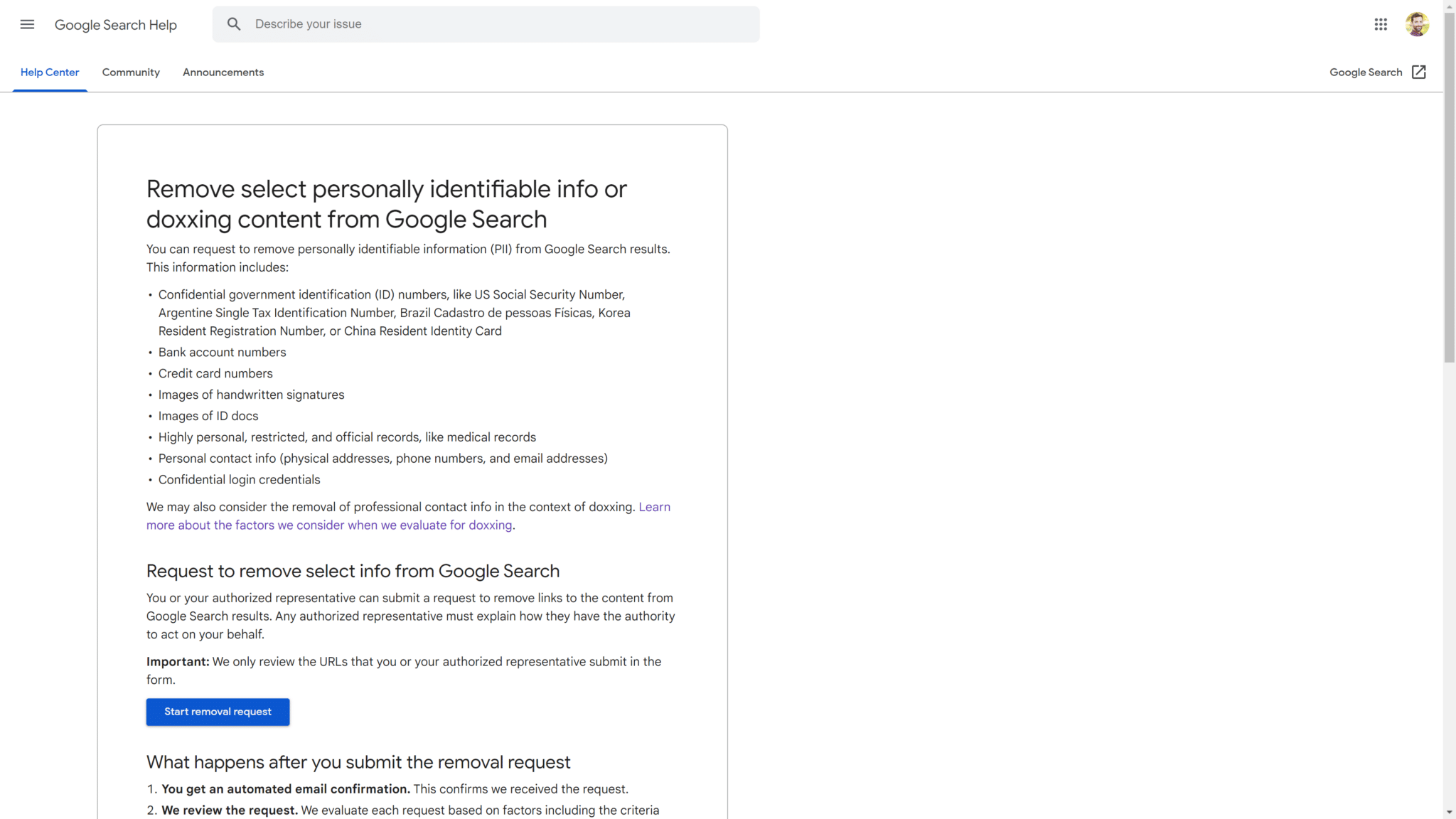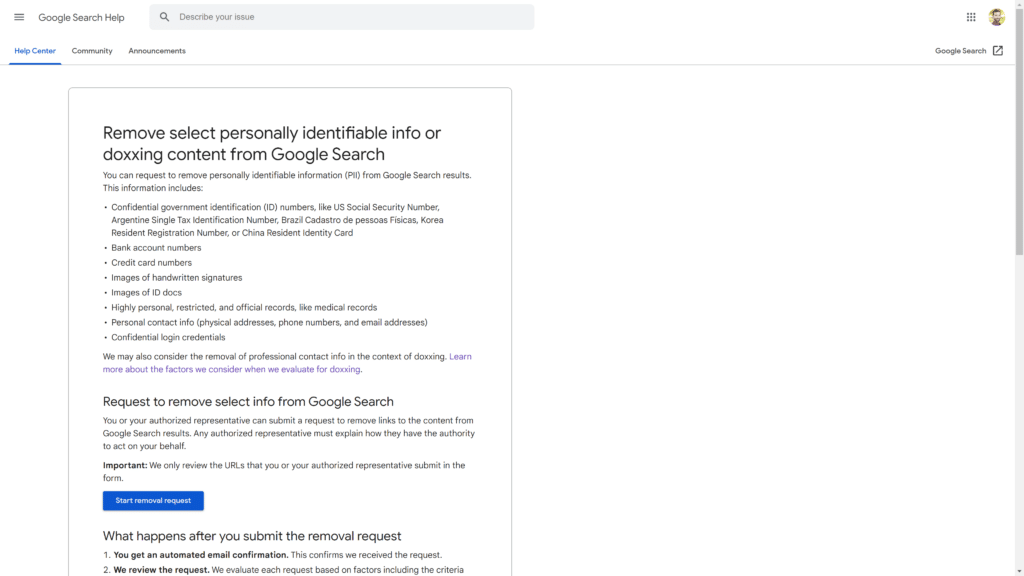 Step 2: Specify the type of request
Select Why you are initiating the request and enter your country of residence.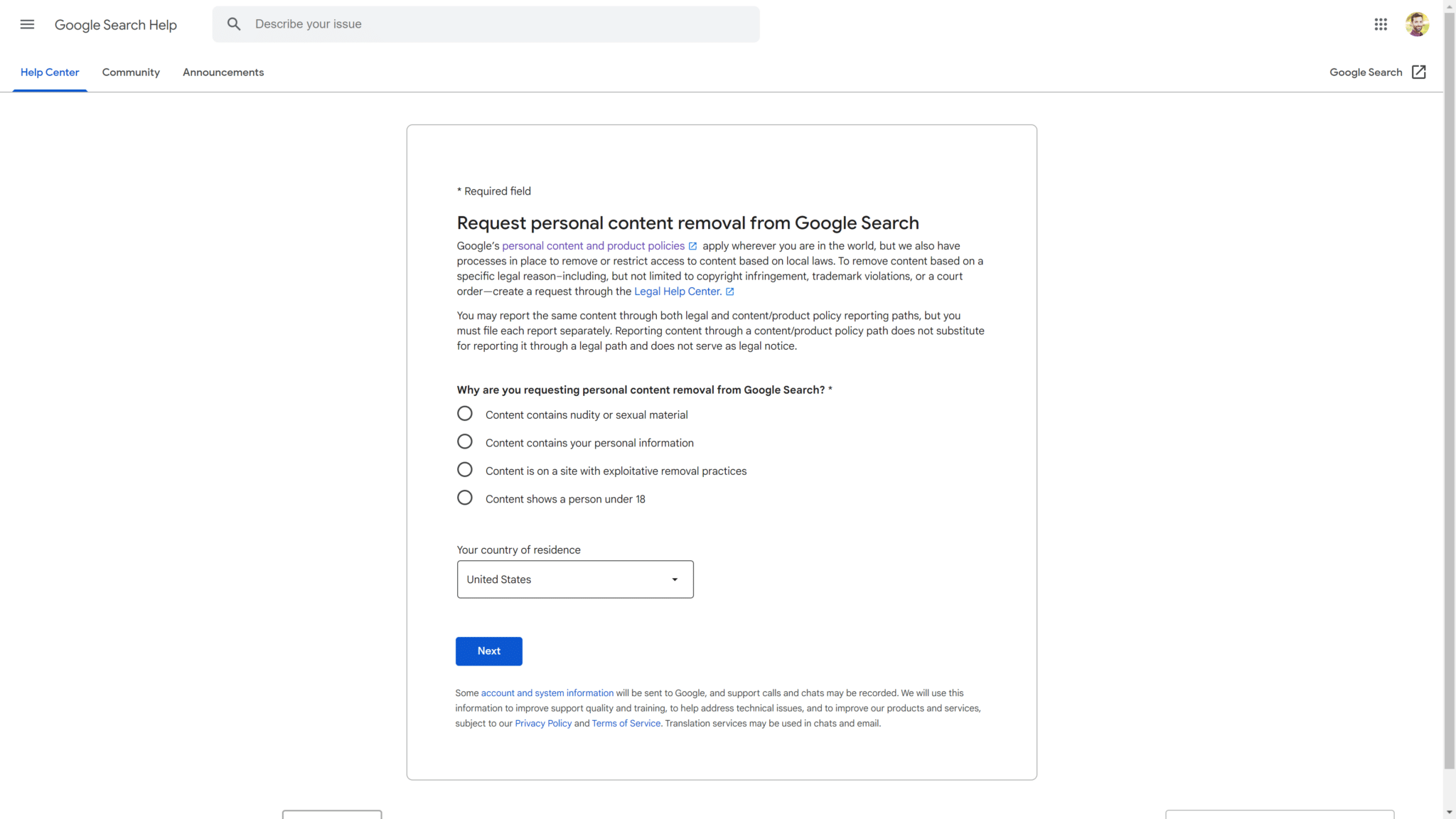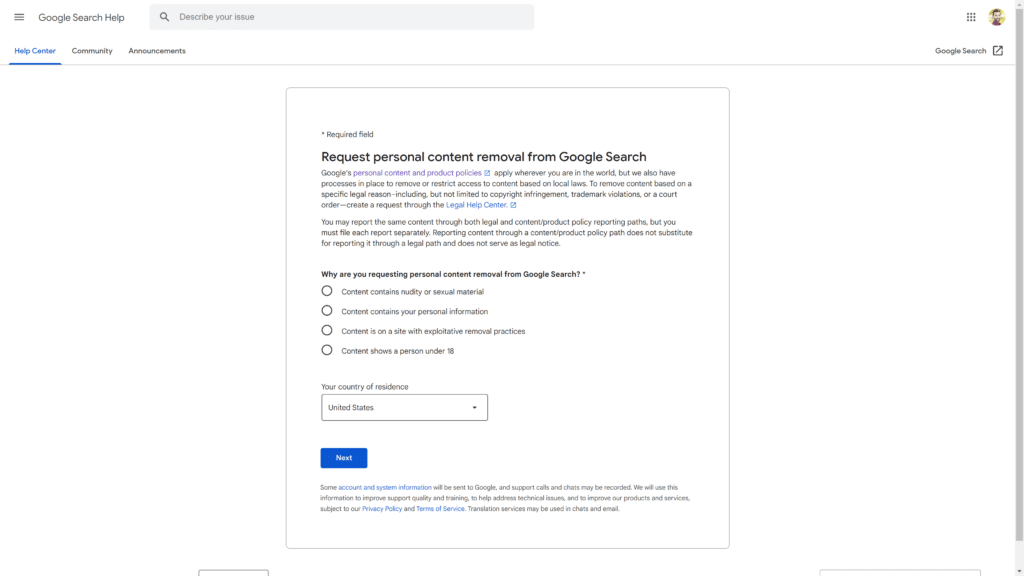 Step 3: Provide Additional Details
If you selected "Contains Personal Information" in Step 2, you will be asked to specify the type of personal information exposed.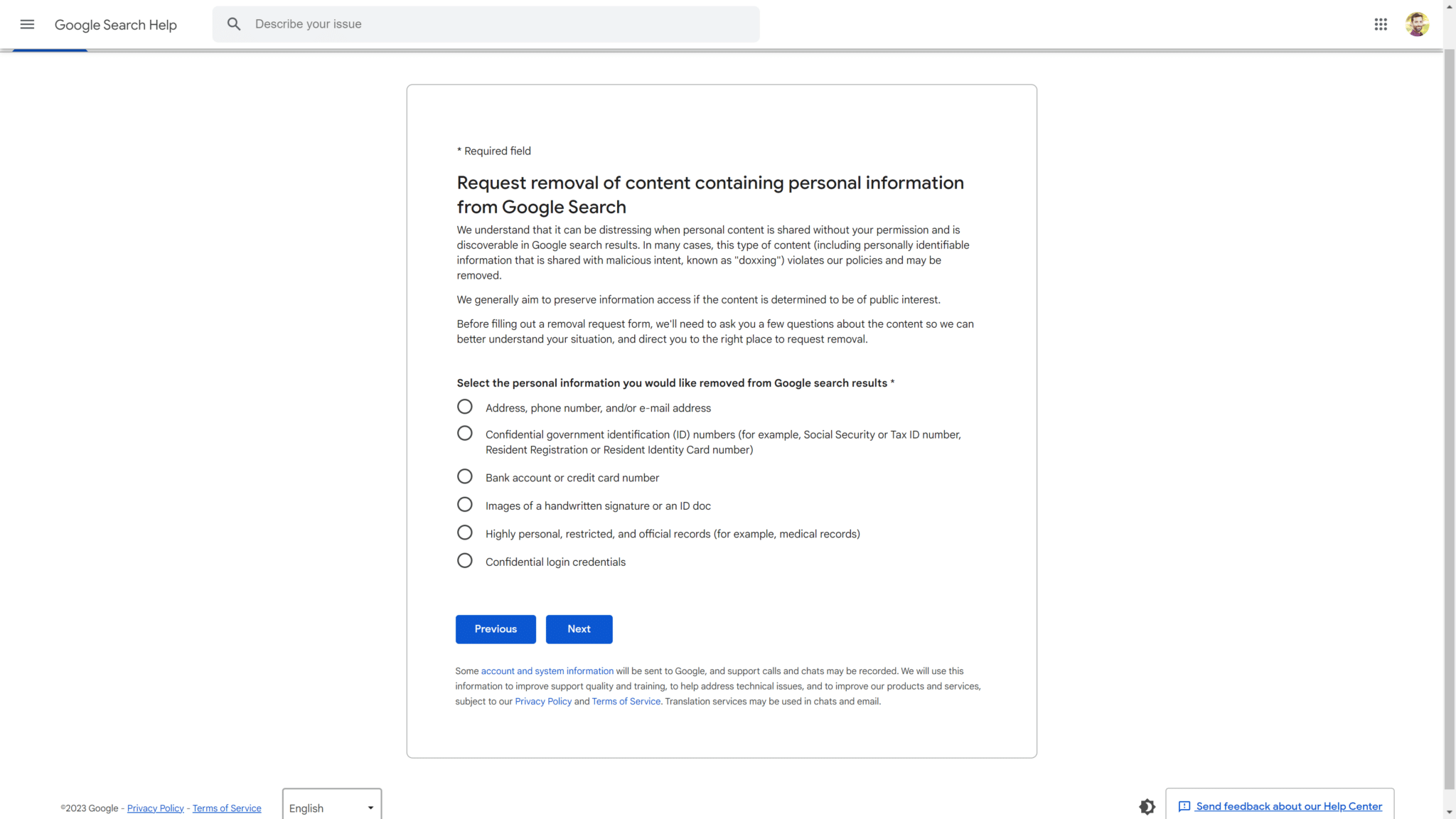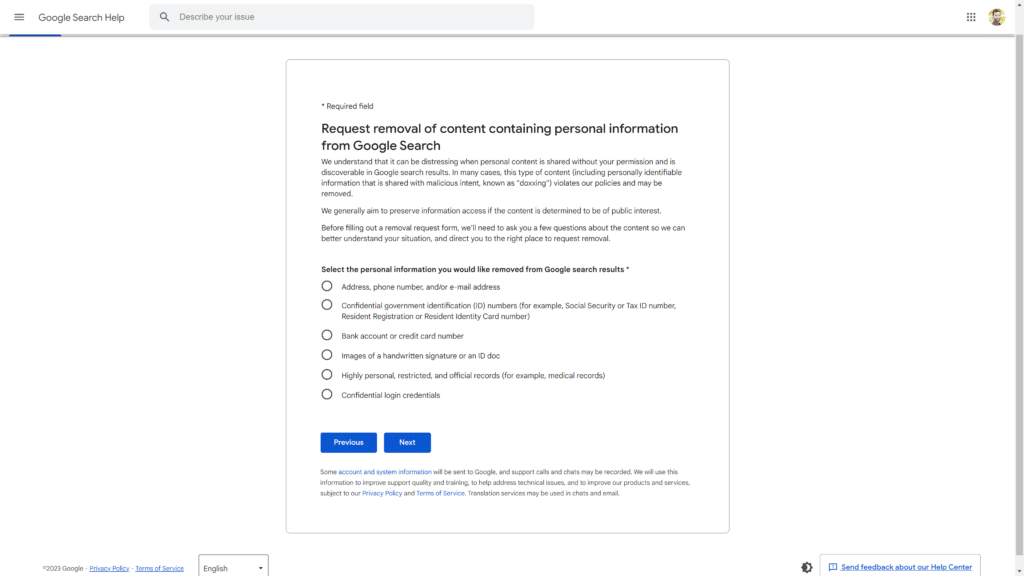 Step 4: Is the content Malicious
If you selected "Address, phone number, or email" in Step 3, you will be asked if the intent is malicious (in other words, are you the victim of doxxing)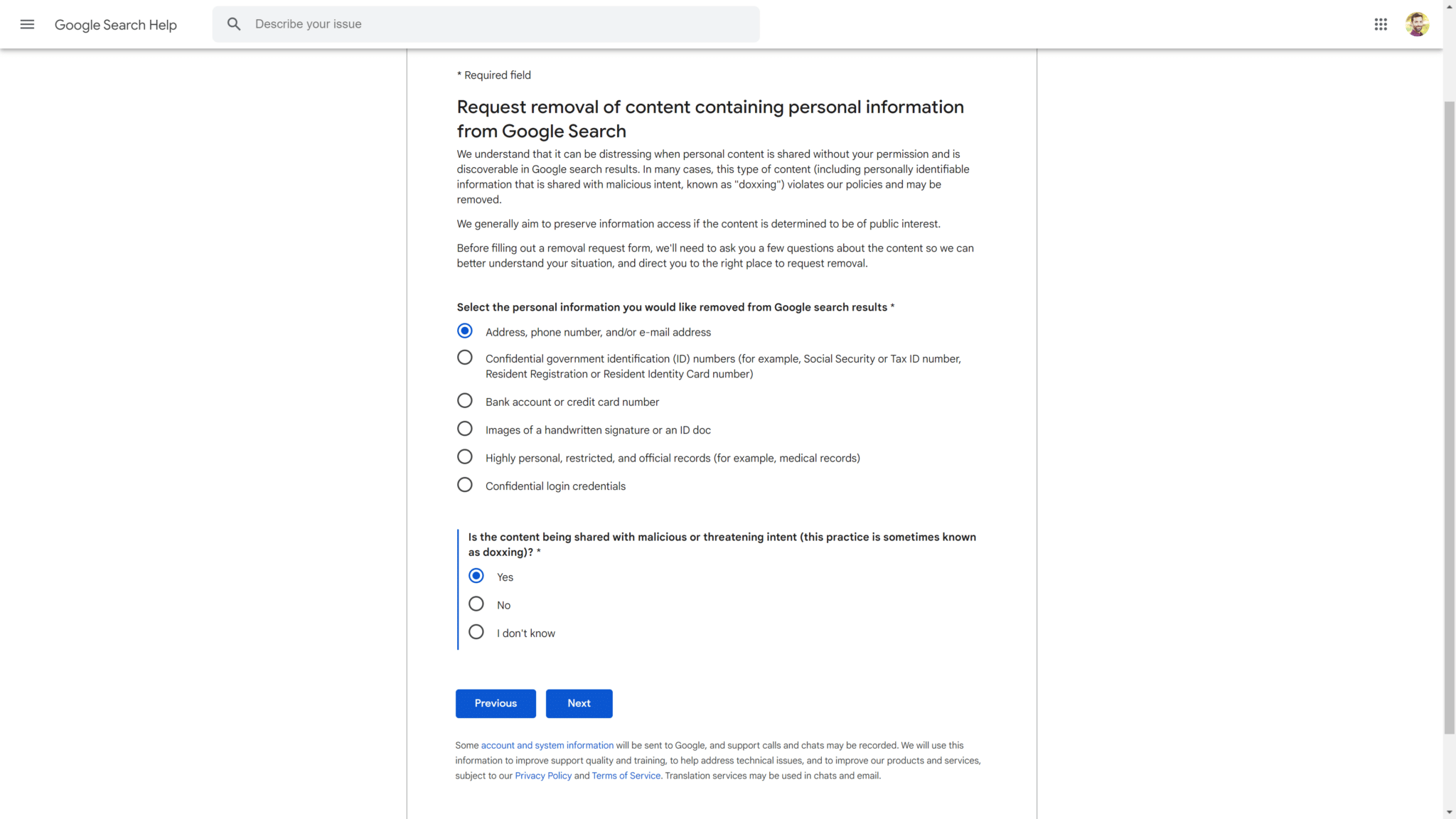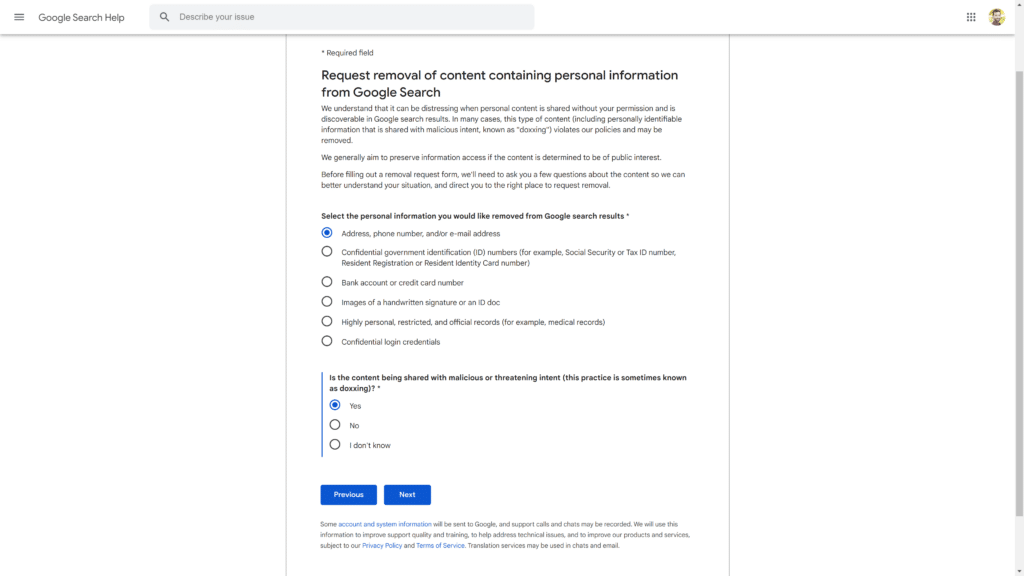 Step 5: Provide contact information and submit the request
Next, provide contact details such as full name and email address.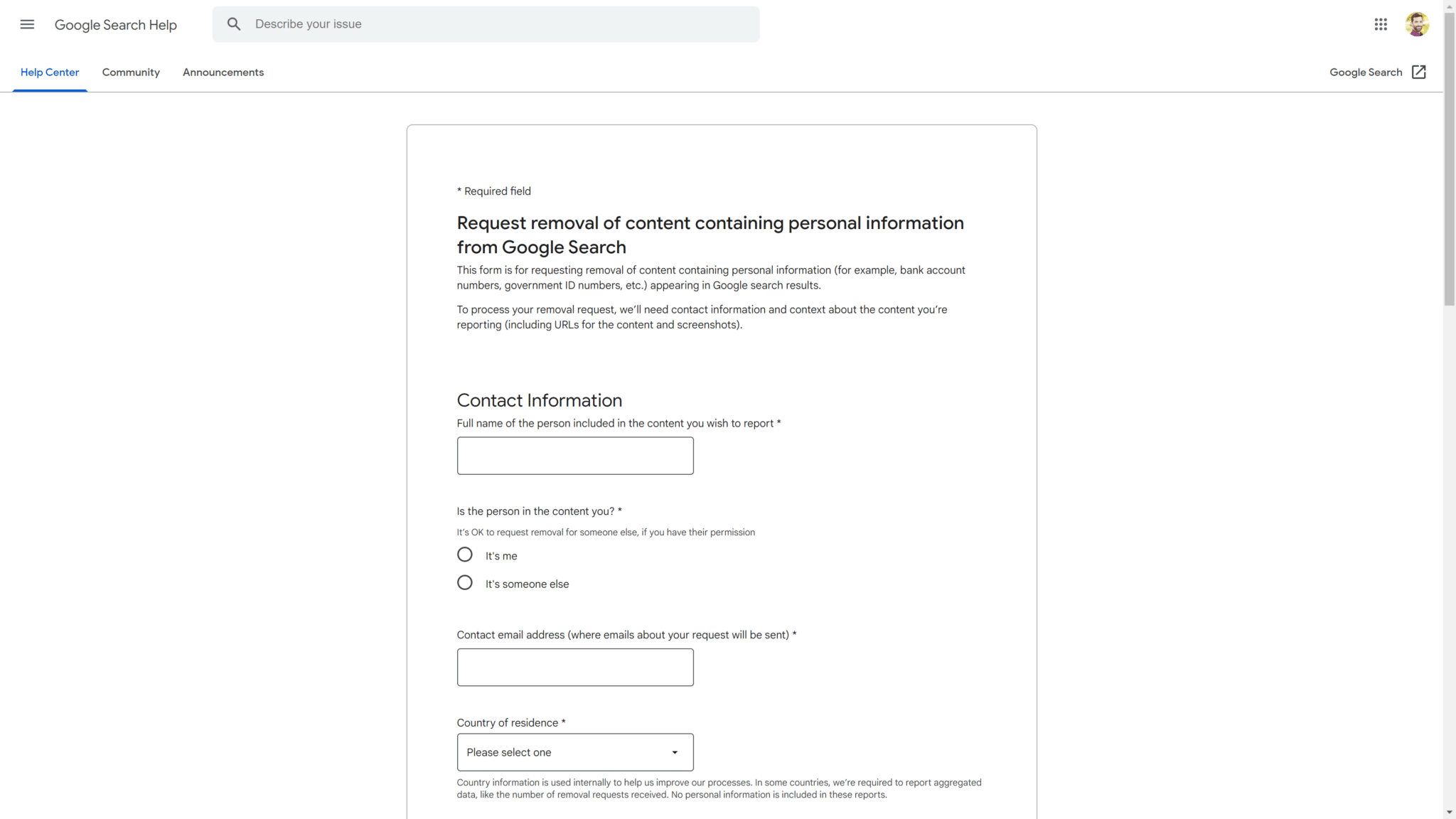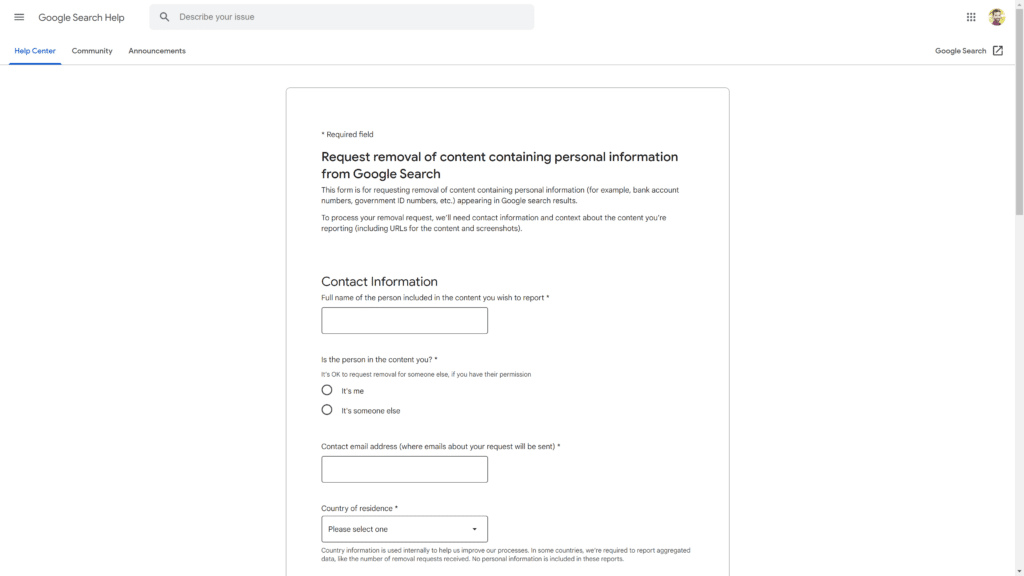 Step 6: Email confirmation and follow up
After submitting a removal request, you receive an automated email confirmation. The request is evaluated based on criteria and public interest. If information is lacking, you may be asked to resubmit with specific instructions. You'll be notified of any action taken, with violating URLs removed from all or limited search results. If the request doesn't meet requirements, a brief explanation is provided, and resubmissions with additional materials are allowed.
Conclusion
Both Optery's automatic Google removal service for Ultimate Plan users and Google's own content removal tools aim to provide consumers with greater control over their personal information online. Optery's automatic service drastically speeds up the process of removing outdated content from Google search results, providing Ultimate Plan users with an advantage in managing their digital footprint. For those not subscribed to Optery's Ultimate Plan, Google's Outdated Content Removal and PII Removal Tools offer DIY alternatives. These tools can help maintain the accuracy of search results and improve the overall quality of content found online.
Despite challenges such as misuse and the inability to completely delete a webpage from the internet, Google's tools provide mechanisms for managing outdated content and personal information in search results. It is important, however, for users to understand the limitations and correctly use these tools. By providing step-by-step instructions, this guide aims to help the reader effectively use the tools to take control of their digital identity and privacy.
In an increasingly digitized world, the need for online personal information management is greater than ever. Tools like those provided by Optery and Google are becoming increasingly central to achieving this goal, enhancing the consumer's ability to safeguard their personal data and improve their online privacy.