In this post, we'll cover what 411.info is and step-by-step instructions on How to Opt Out of 411.info.
What is 411.info?
411.info is the first online 411 service in US and Canada. Offering a free online information service, this data broker aims to help individuals locate people, businesses, services, and addresses. Moreover, the online services they offer are free of charge, in contrast to telephone-based 411 services.
The online directory services offered on their website make it so easy to connect with people and services, but this also means it leaves us exposed online. Our valuable information is bought and shared online in just a few clicks without our knowledge. This often results in phishing attempts, and unwanted spam calls and emails.
Currently, there are three ways to remove your personal information from data broker sites like 411.info:
Sign up for Optery's automated opt out and data deletion service. Our service will monitor and remove your profile from dozens of data brokers on an ongoing basis. Click here to sign up and get started with a free account and to learn about our automated service plans.
Remove your personal information from 411.info by following the steps outlined below. Optery provides guides with step-by-step opt out instructions for many other data brokers here.
If you are a resident of California, you can opt out of data broker sites that follow the California Consumer Privacy Act (CCPA) law. Click here to review Instructions for submitting a CCPA Data Deletion Request.
---
How do I Opt Out of 411.info Manually?
1) To submit an opt-out request on 411.info, navigate to https://411.info/manage/. In the spaces provided, enter your phone number, or, enter your first name, last name, and your city and state location. Click Find Your Listing.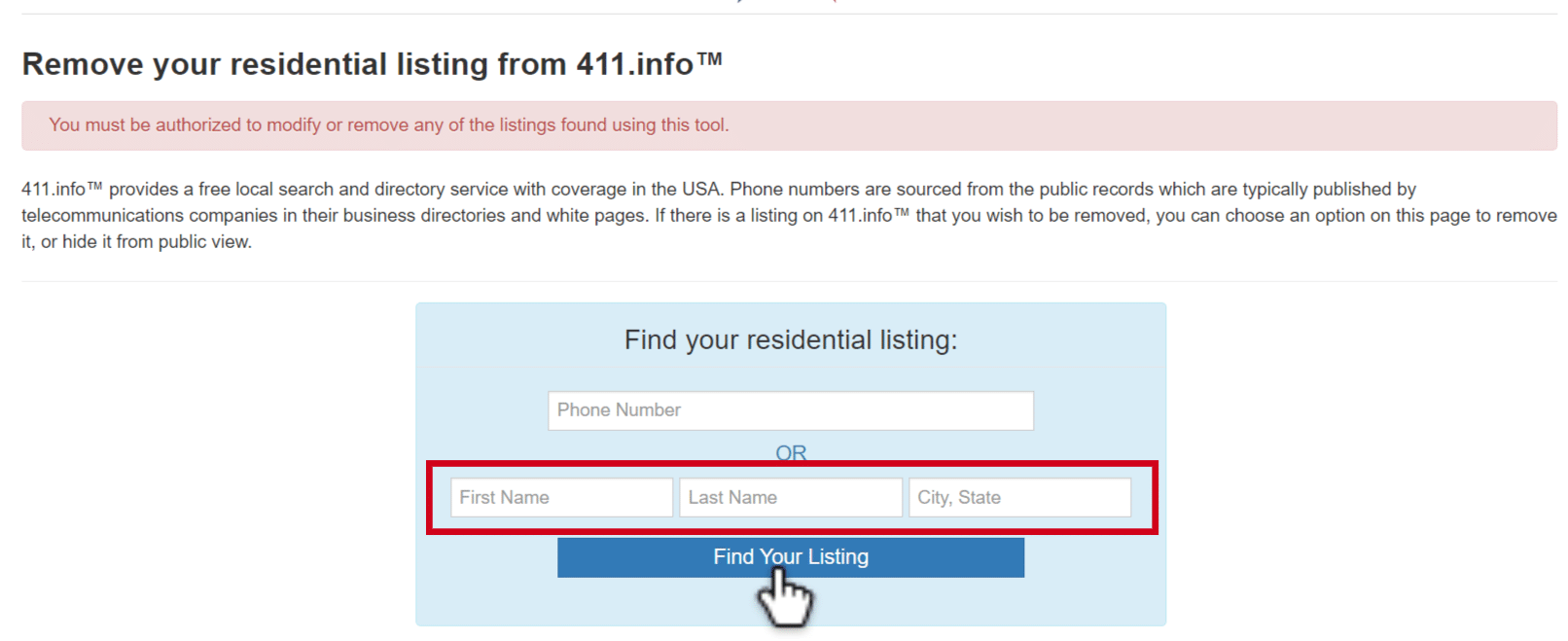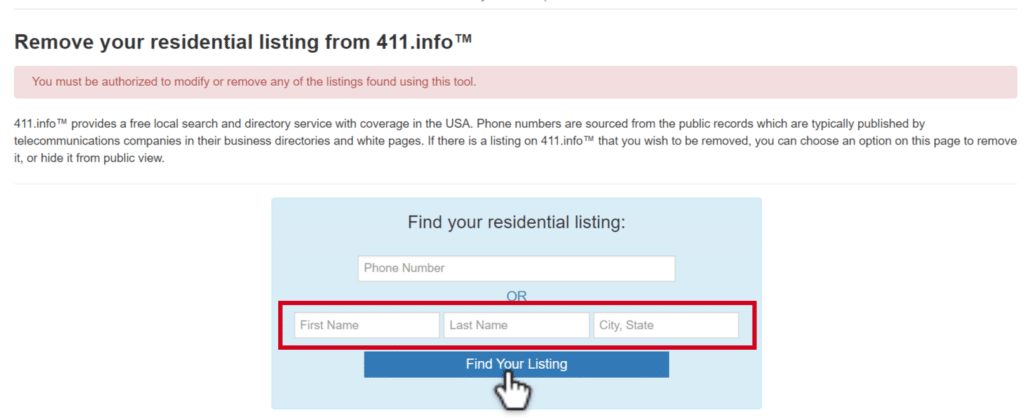 2) Find your listing in the search results, and click Click to Remove to proceed with the removal.
Note: If your listing is not found, click the blue Go back to edit your search criteria link to try another search. You can search using your phone number, or first and last name only, or first and last name and state, etc.. If you have moved or changed your name, try a search using that criteria.


3) 411.info requires payment for immediate, anonymous removal. Once you complete the payment steps, 411.info will remove your information from their site.
Congratulations on completing your opt-out!
You have taken a simple, but important step towards reclaiming your privacy. However, there are hundreds of People Search Sites out there displaying personal information. They are changing and being updated constantly. It's nearly impossible to stay on top of these data brokers which is why we offer our premium service that monitors and removes your profile from dozens of data brokers continuously. We do all the work. You get your time back and more peace of mind.