In this post, we'll cover what Nuwber is and Step-by-Step instructions on How to Opt Out of Nuwber.
What is Nuwber?
Nuwber is a people search site that provides easy access to your personal information through publicly available records. A simple search using a name, address or phone number on Nuwber will provide email addresses, phone numbers, bankruptcy information, liens, professional licenses, full names and aliases, date of birth, address and property history, financial information, as well as judgements and criminal records.
If you are concerned that your private personal information is on Nuwber, follow the step-by-step instructions provided below and opt out.
How do I Opt Out and Remove Myself from Nuwber?
Currently, there are three ways to remove your personal information from data broker sites like Nuwber:
Sign up for Optery's automated opt out and data deletion service. Our service will monitor and remove your profile from dozens of data brokers on an ongoing basis. Click here to sign up and get started with a free account and to learn about our automated service plans.
Remove your personal information from Nuwber by following the steps outlined below. Optery provides guides with step-by-step opt out instructions for many other data brokers here.
If you are a resident of California, you can opt out of data broker sites that follow the California Consumer Privacy Act (CCPA) law. Click here to review Instructions for submitting a CCPA Data Deletion Request.
---
How do I Opt Out of Nuwber Manually?
Navigate to the Nuwber webpage here: https://nuwber.com/. Nuwber requires you to find your personal information on their site using their search technology in order to process your opt out. Under the PERSON tab in the search box on the home page, enter your full name and the city and state where you live and click the Search button. If you prefer to search using your phone number or home address, click on the PHONE or ADDRESS tab, enter the information and then click Search.


Find your listing from the search results that appear. Click the purple VIEW DETAILS button located inside your record. Do not click the green GET FULL REPORT button inside the other record box, clicking it will take you to a different website.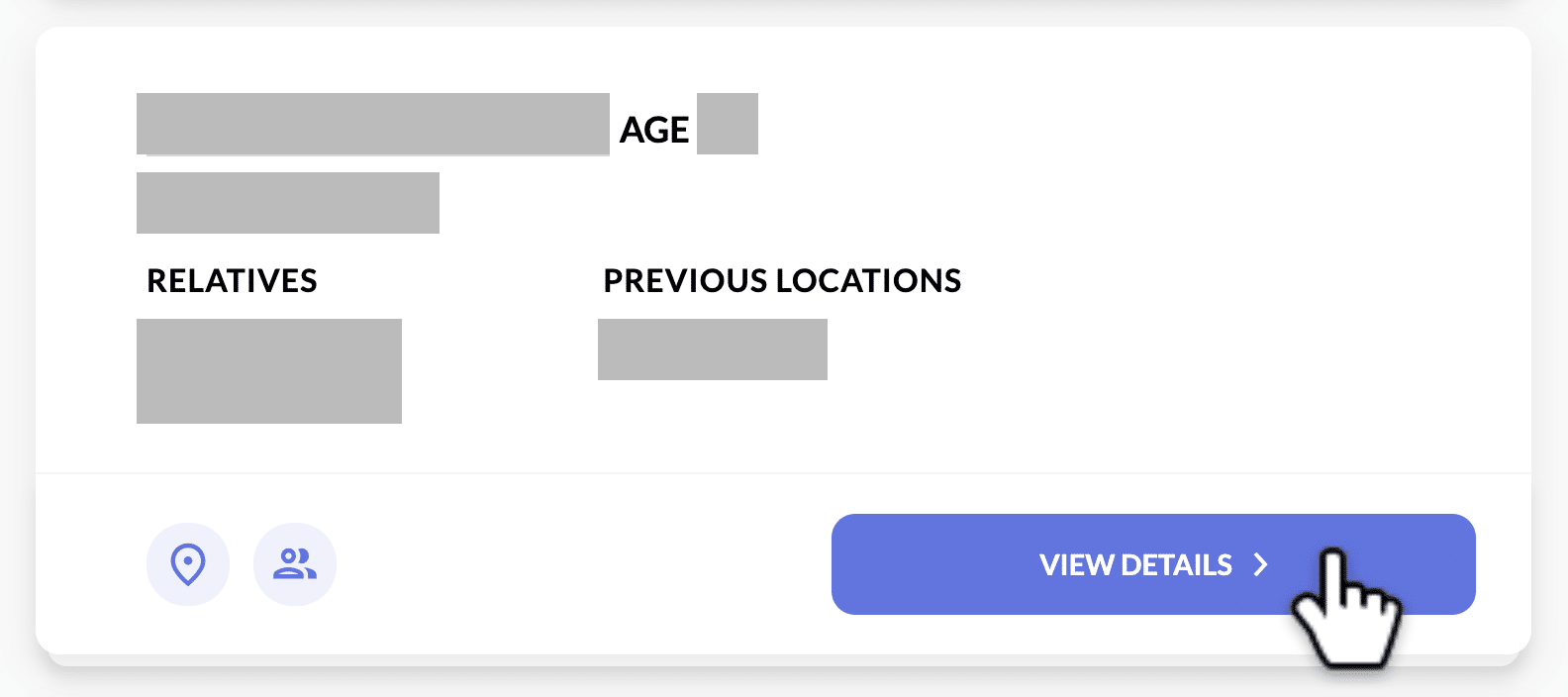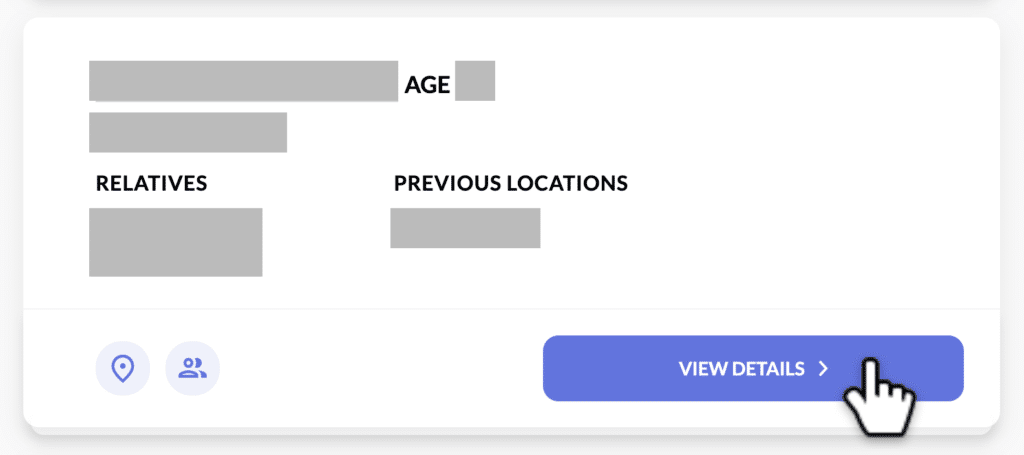 3. Once your record is displayed, you will need to copy the link in the web address bar, indicated in the red rectangle in the image below.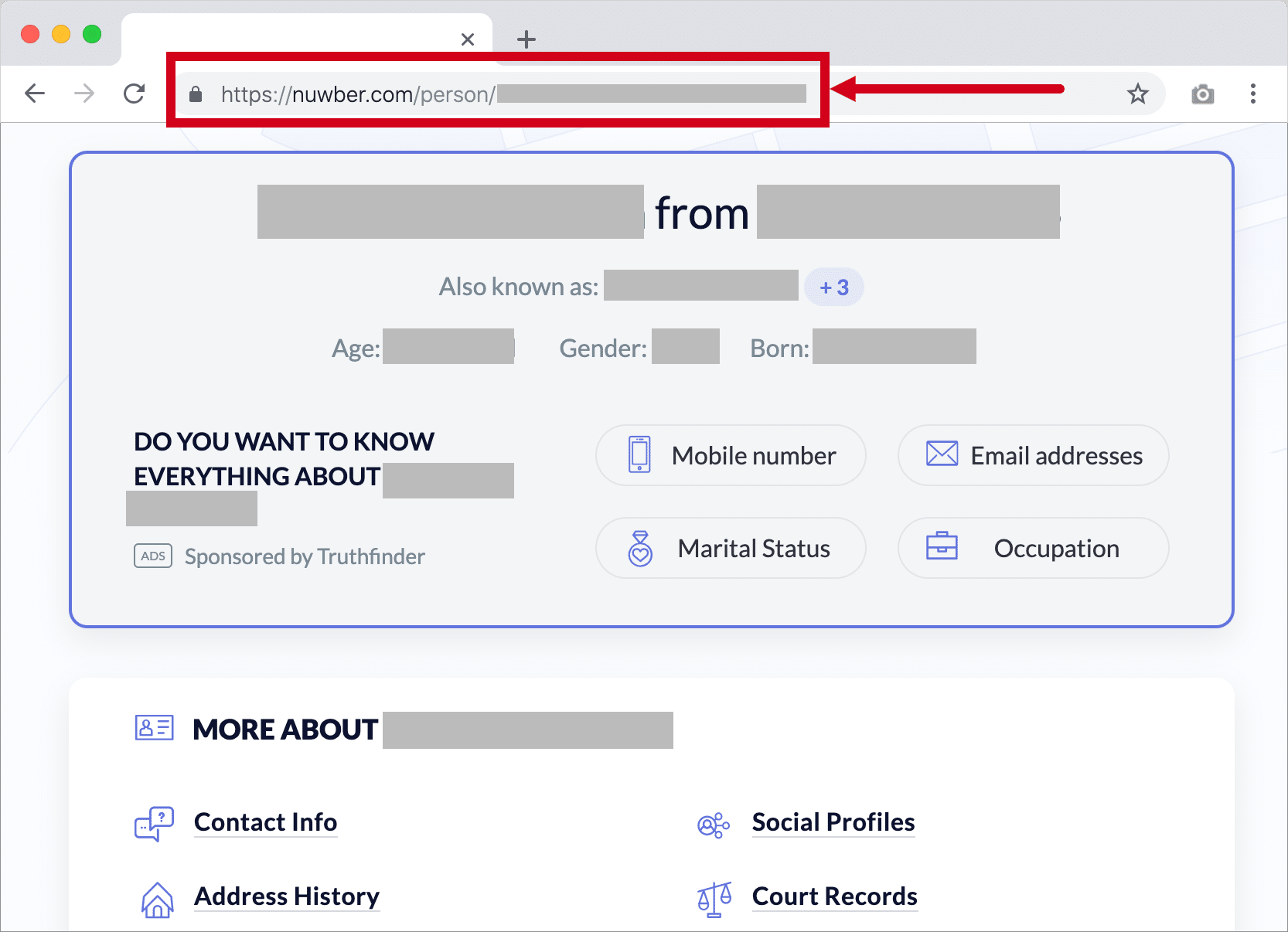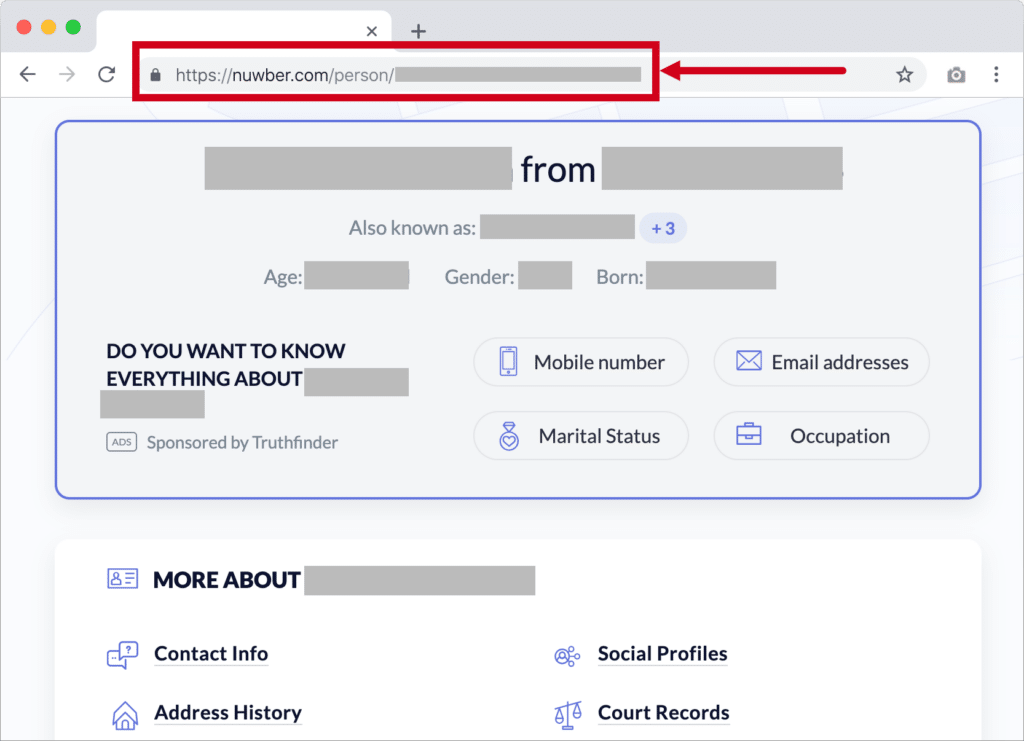 4. Next, scroll down to the bottom of the web page, and click Remove My Info under HELP.


5. The Nuwber opt out form will be displayed. In the first field paste the link you copied in step 3 and click the OPT OUT button.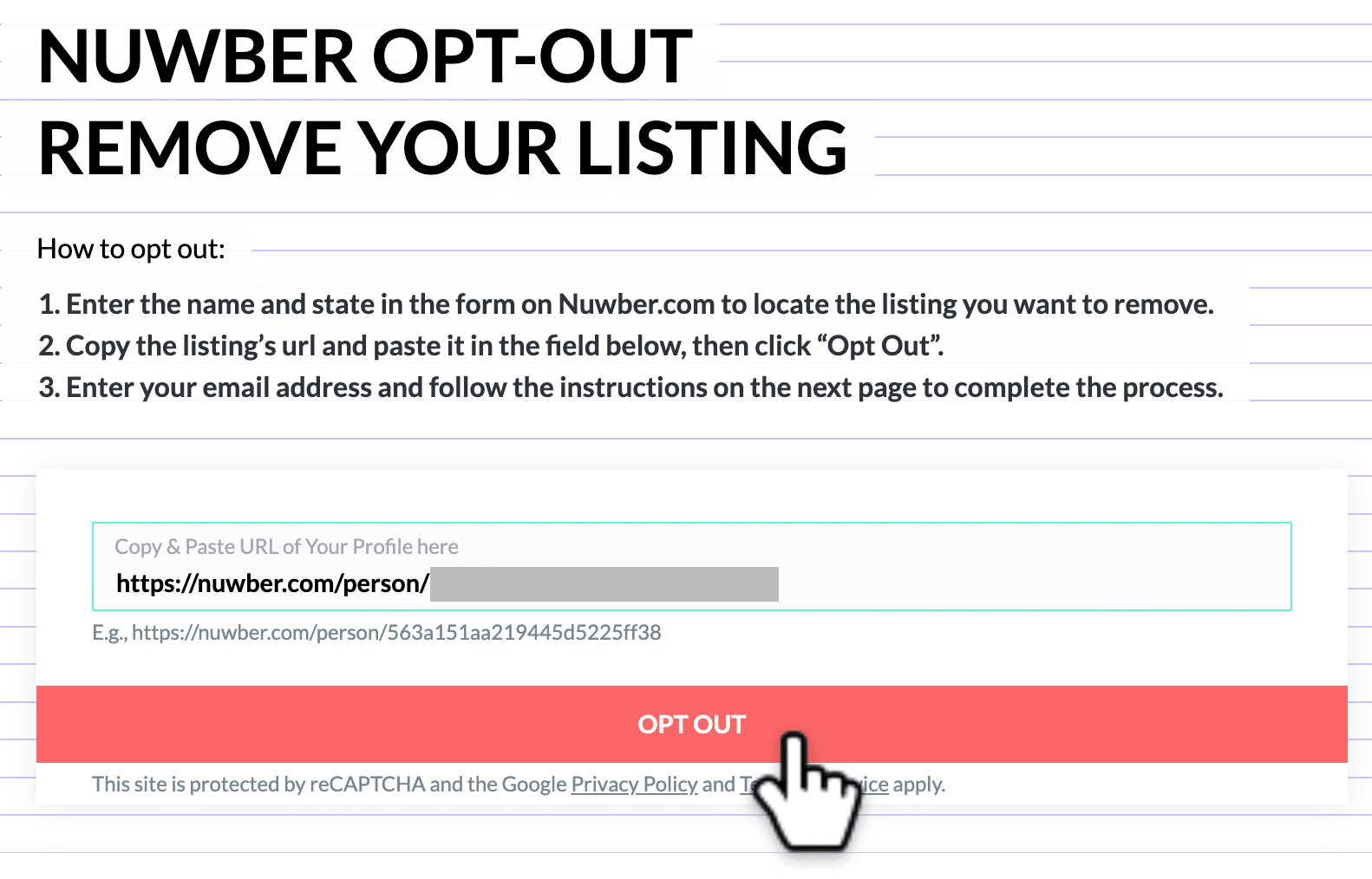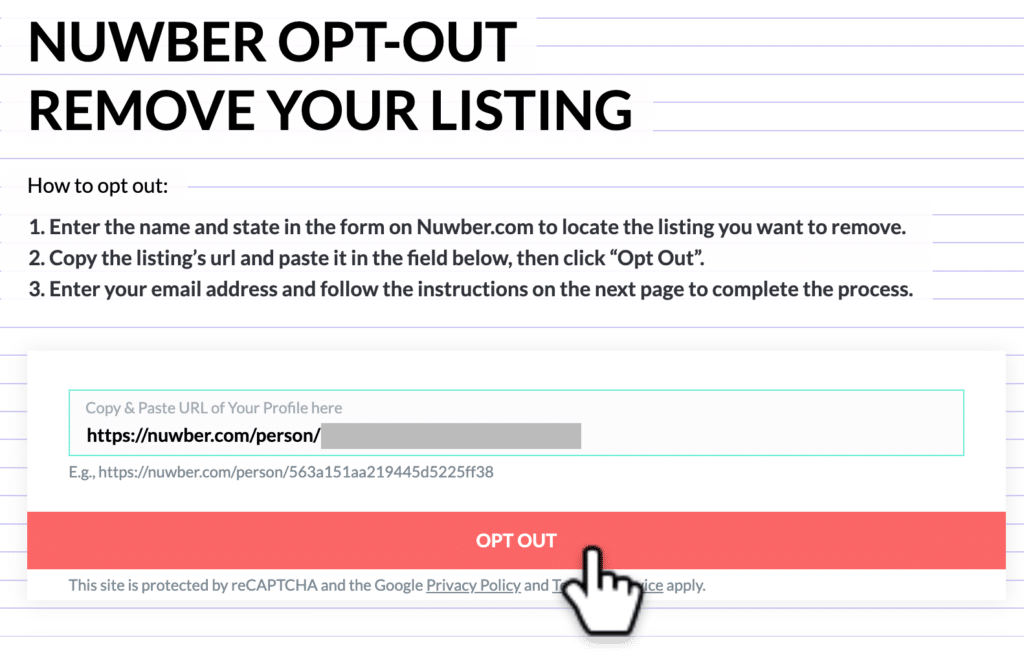 6. The next part of the opt out form will ask you to verify the personal information you would like removed from the Nuwber website. You will need to enter your email address in the space provided. Then click REMOVE.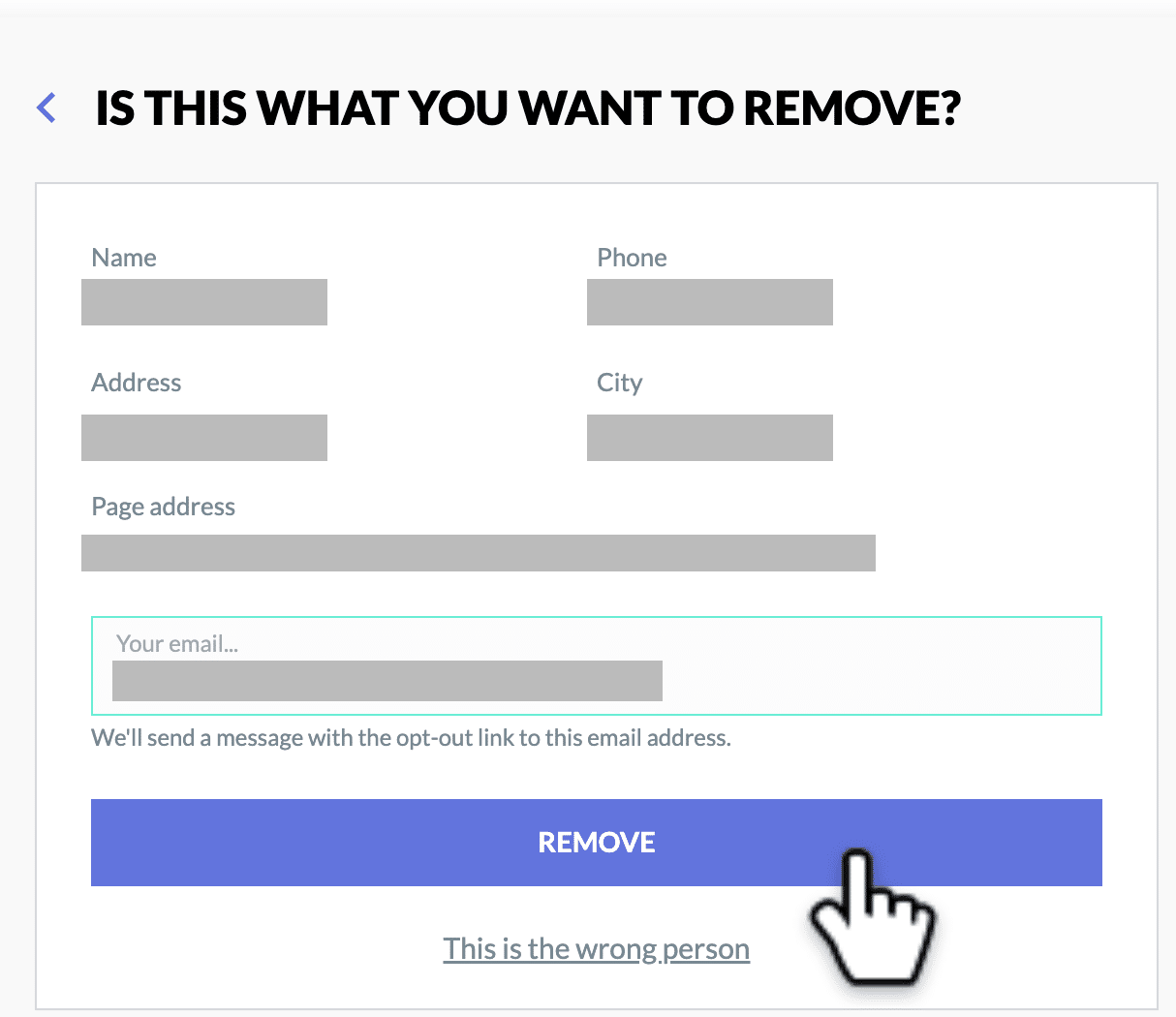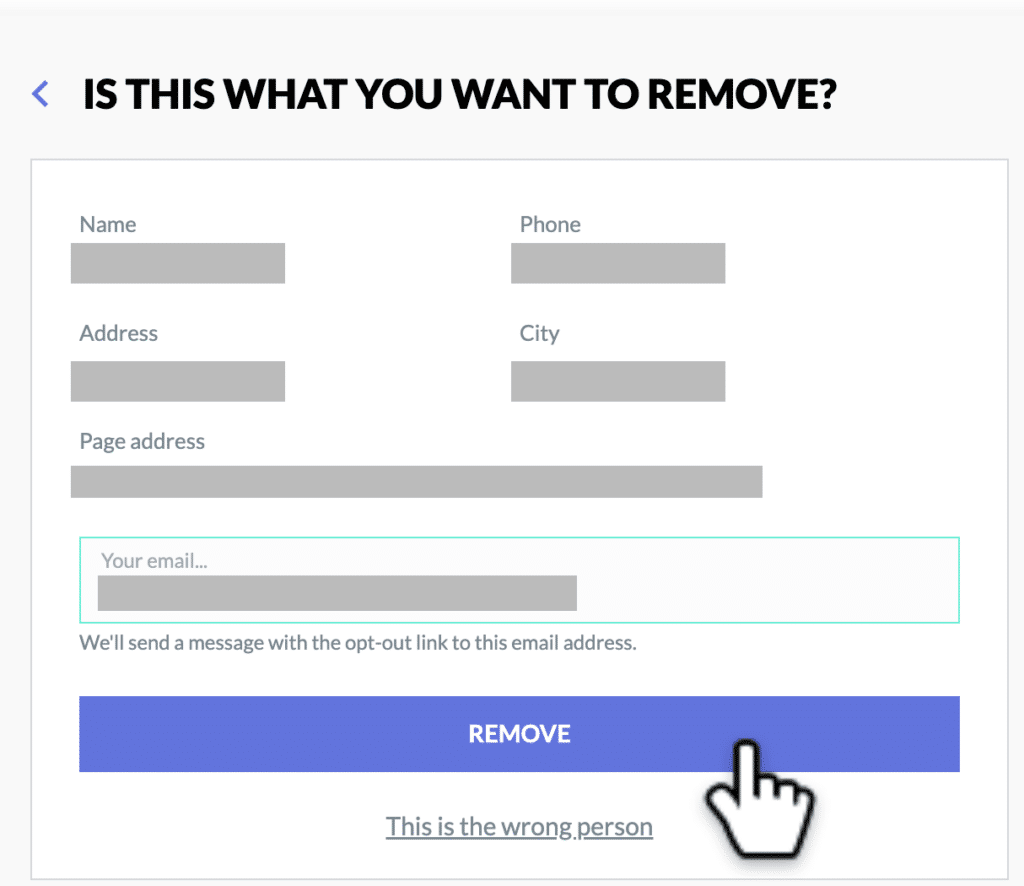 IMPORTANT: Whenever contacting a data broker, we highly recommend using a disposable email address, and NOT using your own primary email address. Data brokers are known to add you to their marketing lists and databases whenever you contact them, even if the purpose is to opt out! For more info on Disposable Emails click here
7. After you click the REMOVE button, an on-screen notification will appear instructing you to check your email inbox for an email from Nuwber.


8. Check your email inbox for an email from Nuwber. Open the email and click the CONFIRM REQUEST button to complete your opt out.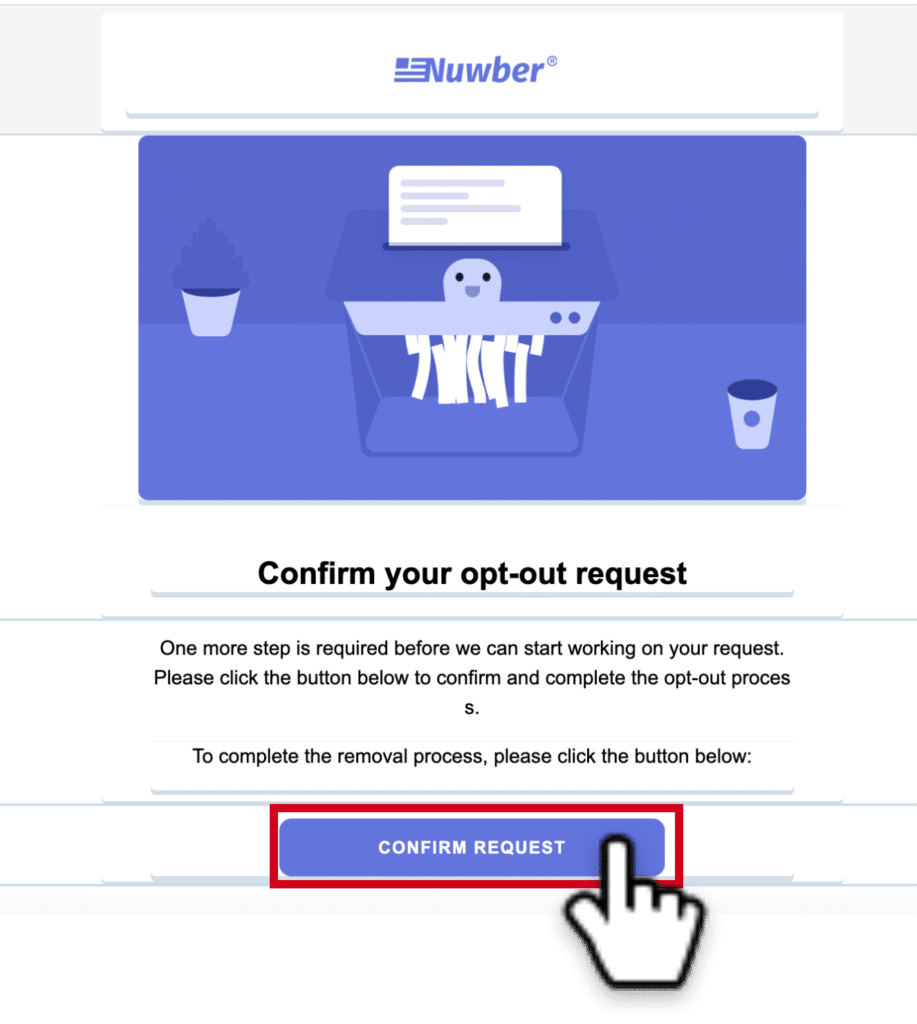 9. Confirmation of your opt out will be displayed, and your personal information will be removed from the Nuwber website.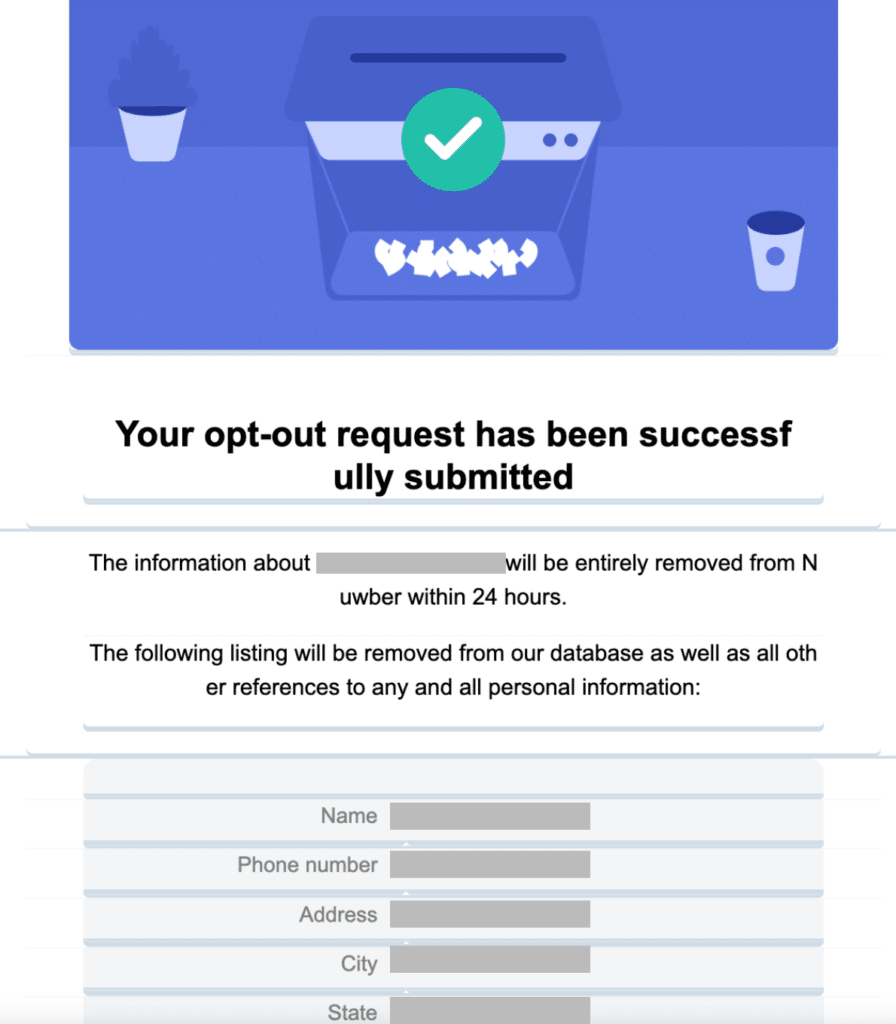 Congratulations on completing your opt-out!
You have taken a simple, but important step towards reclaiming your privacy.  However, there are hundreds of People Search Sites out there displaying peoples' personal information. They are constantly changing and being updated.  It's nearly impossible to stay on top of these data brokers which is why we offer our premium service that monitors and removes your profile from dozens of data brokers continuously.  We do all the work. You get your time back and more peace of mind. Bonus tip: if you're a business owner worried about the security of your employees, we also have Optery for Business.