Spokeo: How to Opt Out and Remove Yourself from Spokeo | Step-by-Step Instructions
What is Spokeo?
Spokeo is a data broker that uses a third party to collect public information. Each profile is presented and organized for searching. Their paid users can access complete personal details, while free users have limited viewing access to the people search results. Spokeo's profile results includes: names, past & present addresses, personal phone & email, social media profiles, court records, family members, and health and wealth records. Follow the steps below to Opt Out of Spokeo.
Currently, there are three ways to remove your personal information from data broker sites like Spokeo:
Sign up for Optery's automated opt out and data deletion service. Our service will monitor and remove your profile from dozens of data brokers on an ongoing basis. Click here to sign up and get started with a free account and to learn about our automated service plans.
Remove your personal information from Spokeo by following the steps outlined below. Optery provides guides with step-by-step opt out instructions for many other data brokers here.
If you are a resident of California, you can opt out of data broker sites that follow the California Consumer Privacy Act (CCPA) law. Click here to review Instructions for submitting a CCPA Data Deletion Request.
How do I Opt Out of Spokeo Manually?
1) Go to https://www.spokeo.com/. Choose your search option from Name, Email, Phone, and Address. Enter the details and click 'Search Now'.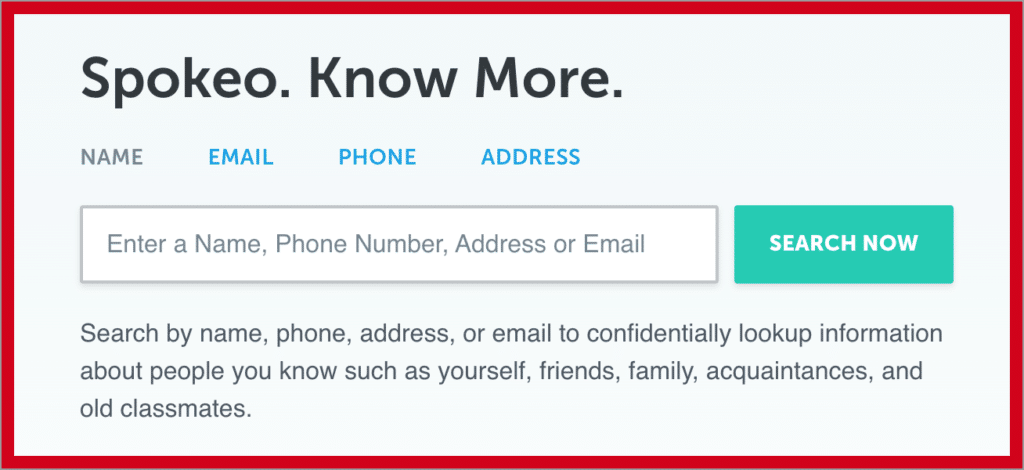 2) Locate your listing and open your profile.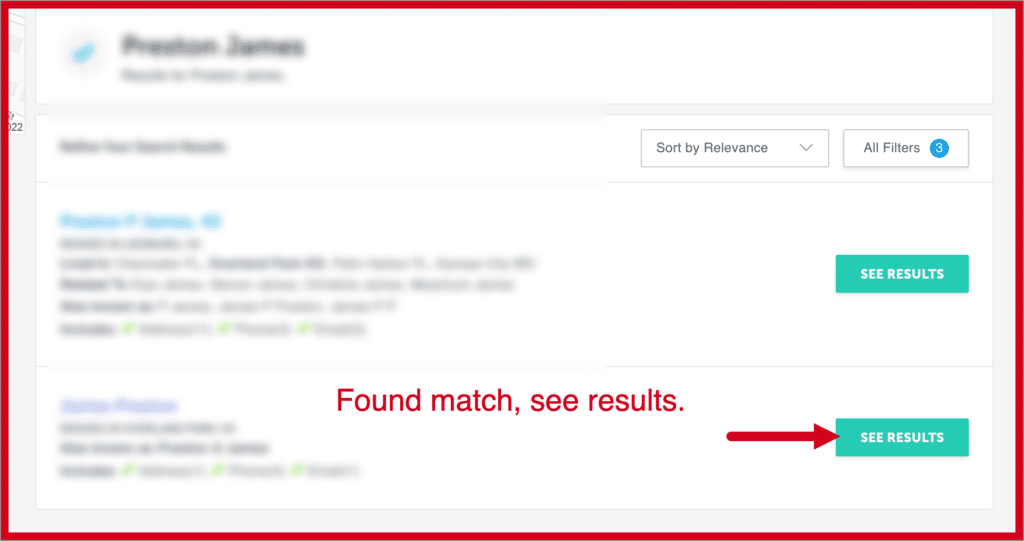 3) Copy the URL link.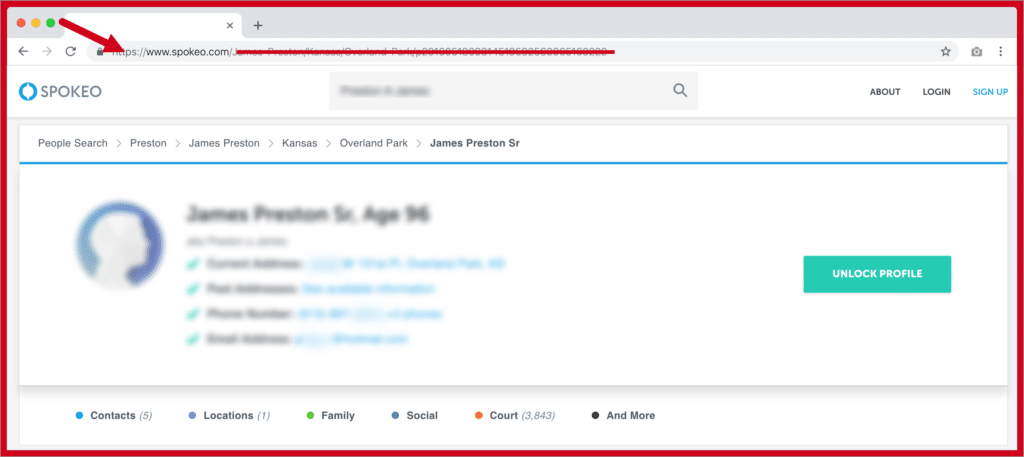 4) Go to the Opt-out page https://www.spokeo.com/optout. Paste your profile URL, provide your email address (NOTE: For added protection, we recommend using a disposable email address when interacting with People Search Sites – see our Help article for more info), perform CAPTCHA, and hit the 'REMOVE THIS LISTING' button.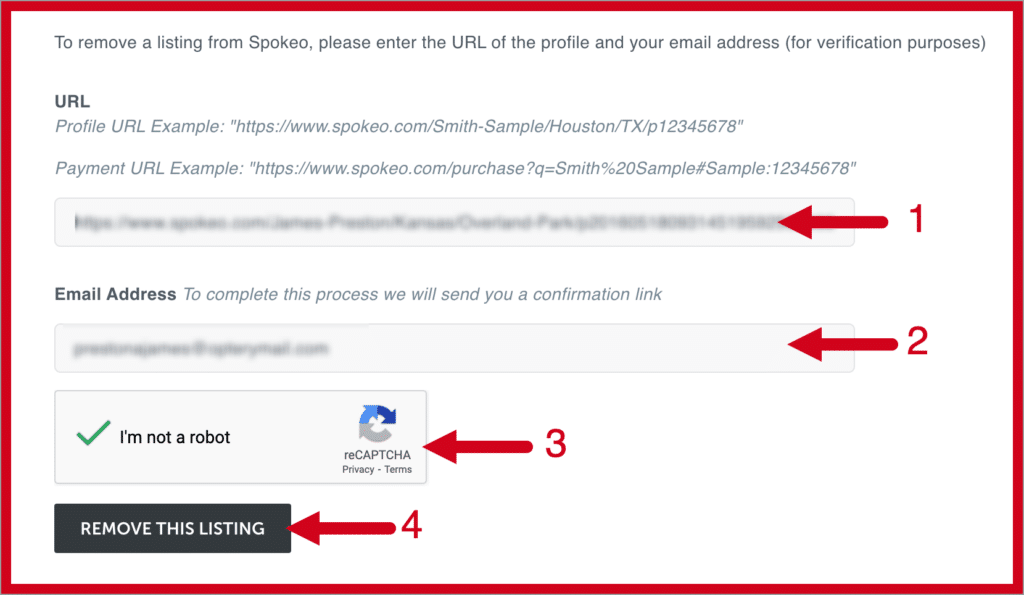 5) Check your inbox for the notification email. Open or copy the confirmation URL to complete your opt-out process.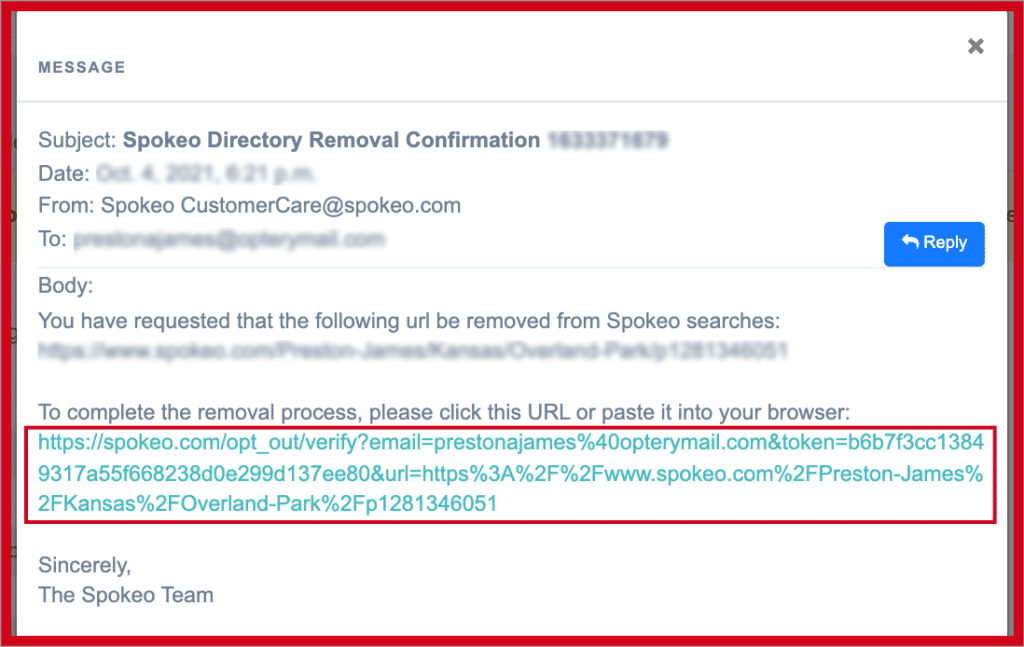 6) The removal of your personal information takes at least 2-3 days. Check their page to confirm the removal of your profile.
Congratulations on completing your opt-out.  However, there are hundreds more people searching sites out there displaying personal information, and they are changing and being updated periodically.  It's virtually impossible for any individual to stay on top of these data brokers on an ongoing basis which is why we offer our premium service that monitors and removes your profile from dozens of data brokers on an ongoing basis.  We do all the work, you get your time back and more peace of mind.