The Optery Blog
Your source for insights, information and resources from Optery.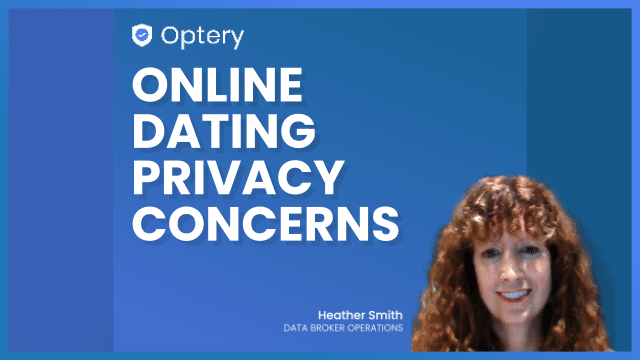 August 8, 2022
When you start online dating, you have choices as to how much information that you can reveal on those sites. Be aware of what information a bad actor can find in a data broker site and potentially find out where you live, your phone number, and other sensitive personal information.
August 8, 2022
When our users first run a Free Exposure Report, often they are astonished at how much information of theirs is out there that they didn't volunteer. For millions of Americans, these data brokers have their personal information and are selling it online.
August 8, 2022
It's very simple using these People Search Data Broker sites to find out your phone number and then all of a sudden you're getting unwanted text messages or even phone calls.
August 8, 2022
After we started Optery, what was surprising is we were getting messages from people saying, "Hey, I do online dating. And the thing that I'm most concerned with is I don't want my age out there."
August 8, 2022
When we started Optery, we thought about all the reasons why people wanted to protect their information and remove it from the web. And the places that we started with was things like preventing identity theft, preventing fraud, preventing phishing attacks, preventing doxing.And to be honest, I never considered that we would be helping people with their online dating activities.
August 3, 2022
This is a complete guide to web browsing privacy in 2022. So if you want to protect your private information, see less targeted ads, and hide your online activity, then you'll love the actionable tips in this new guide.
August 2, 2022
What People Search Sites are really good at is stoking people's psychology. They have all of these devices that have been built up over decades through trial and error that are are designed to get people to take the next step, to garner more curiosity, to get them to complete a form or to get them to hand over their credit card.
August 1, 2022
Today you're going to learn 7 reasons why cybersecurity is important. From espionage and nuclear threats to natural disasters and physical attacks – cybersecurity affects them all. So if you want to know why cybersecurity is essential in the coming years, then you'll love this post. Let's dive right in.
July 25, 2022
Finding out that data brokers sell personal information of yours that you didn't offer to them to begin with can be disturbing, and the fact that it's gone unregulated for so long makes it a little bit scarier as far as the information that you can actually find out about other people now.
July 22, 2022
Data brokers are companies that collect information on consumers and then sell that information to other companies. And the data broker ecosystem is vast.It's a galaxy of companies that exist in this space. Most of the data brokers ordinary people don't know who they are or that they exist. The ones that peek their heads out of the shadows the most are data brokers that we call People Search Sites.
July 22, 2022
What data brokers would do is go out and scrape the web, and also gather public records databases for free. They could license data from companies like LexisNexis or Acxiom or Epsilon, and then they could just publish all of that information to the Web. They could put ads on the website, and then they would have millions of pages of content indexed in Google.
June 30, 2022
Lawrence Gentilello, Optery CEO and Founder, and Heather Smith, Optery Data Broker Operations Manager discuss who are the data brokers and people search sites posting and selling your personal information online.
April 28, 2022
It's unbelievable that in the year 2022, outside of these four states, U.S. citizens still have no legal right to opt out of the sale of their personal information. HBO's John Oliver agrees and recently discussed a hilariously provocative proposal for getting a nationwide data privacy law passed ASAP.
June 27, 2021
If you sign up for Optery (free), we show you where your information is being sold and exposed online at 150+ people search sites. People's jaws usually drop when they realize how much of their personal information is openly posted by these sites on the public internet.
June 27, 2021
Big Tech makes an easy target for politicians, and has rightly been taken to task for being irresponsible with your data, but they are a veritable Fort Knox with your personal information compared to the sites known as People Search Directories we focus on at Optery.